Light is thrown on a dark problem but the audience is let off the hook by an unlikely ending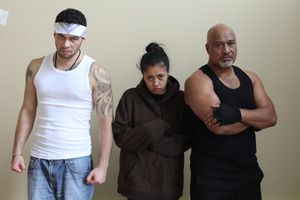 Patua means "to hit, kill, subdue, ill-treat", and writer-director Renae Maihi bravely takes on the subject of child abuse in the 75 nicely paced minutes of this, her second play.
Where her first play, Nga Manurere, was subtle and sympathetic, this straight-told story is blunter.
There's no mucking around: action starts in the middle of a tense, scared and explosive stand-off between 14-year-old Sissy (an utterly believable Ngahuia Piripi) and her father and older brother.
They disagree about what to do now that the baby of the house has been hospitalised with serious injuries. The phone rings shrilly during a threatening tableau - Sissy wants to answer it but the men stand in her way. This depressed, unsafe environment is contrasted - perhaps too neatly - with the warmth and (over)protection of a mirror whanau. We see stock situations and characters such as the idiot savant, well-played by Mohi Critchley, and the childless couple who'd be such good parents - Vinnie Bennett and the compelling Cian Elyse White (who also play the "bad" parents).
One of the best, most physically dynamic scenes shows both the stress lines and tenderness between the childless couple. While sometimes over-expository, the play and performances excel in giving such moments of heightened emotion a natural immediacy. A light is also thrown on the overlooked: the victim's teenage aunty; the well-brought-up stranger who has internalised the message that child abuse is a Maori problem - and therefore doubts his own ability to parent well.
Jane Hakaraia's lighting design makes "shadows" of light through four raised sculptures in Hemi Kiwikiwi's clever set of bottle crates.
Small but irritating detail: few geographical anchors are given - except for the (as yet) non-existent "central Auckland" train station (in place of Grafton or Newmarket as the closest stations to Starship).
The ending's unlikely catharsis robs us of urgency about a pressing, endemic issue. We're reminded that violence is cyclical, but Patua arguably over-simplifies this problem and lets the audience off the hook.
What: Patua
Where and when: Tapac, Motions Rd, Western Springs, to May 26