Taking a different view of feminism, Wendyl Nissen starts a weekly column on her year as a 'supportive wife'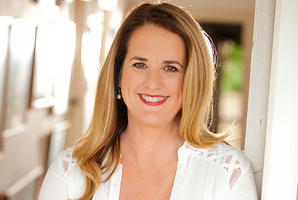 'I'm going to be a supportive wife," I said to my husband. "For a year," I added by way of an insurance policy.
"And that means?" he said cautiously, unused to such life-changing pronouncements at 7am.
"I'm going to support you in everything you do. I'll bring you coffee in bed for a change. I'll cook all the meals, do all the washing and cleaning, host drinks with your clients complete with nibbles and iron your shirts using home-made starch and lavender water.
"I'll wake up every morning and say 'What can I do to help you today darling?"'
My husband checked his watch. His face could not hide the quiet terror inside his head as he wondered if he had woken up in the wrong decade.
Had he travelled back to the 1950s when men were prime apes and women wore aprons and girdles, set their hair and had a cocktail and warm slippers waiting when he got home? When Brazilians were people from Brazil, breasts were made of live human tissue instead of salt water and pole dancing was a way to describe a happy Polish person.
"I don't think so," he said. "It would never work, and besides I don't wear shirts with buttons any more."
"No matter," I said. "Ironed T-shirts look so nice."
Since I got my first job at 19, my career has meant everything to me. There have been many years of me, me and did I mention me?
I've dragged my family overseas, I've worked longer hours then a mother should, and I've relied heavily on my long-suffering husband to pick up the pieces left behind as I rushed out the door.
In the sixties, we were told girls could do anything and so some of us went out and did everything.
I was feminism's keen daughter, striding out over the rubble of abandoned bras and placards.
Early in my career, a woman who had been at the forefront of the second feminist wave looked me up and down and asked me rather haughtily what contribution I was making to women's struggle.
I was so bloody exhausted living the life she and Germaine Greer had delivered me that constructing a sentence with the words "When you've fed a baby at 1am and 4am, worked a 12 hour day and come home to two children under five let's have a chat about it" was beyond me.
Then, at 40, I realised something had gone horribly wrong.
I was exhausted, unfulfilled and somehow I had become a bit of a man. I wore suits to work; I never talked about my kids in the office nor did I leave early for a child's concert or parent/teacher interview.
I swore like a trooper, developed a steely determination and a razor sharp tongue to go with it. I was often described as "ballsy" and that classic term used for a woman with an opinion, a "bitch."
I turned to Germaine, for it was she who had set me on this path to misery, and found these words from The Female Eunuch, written in 1970.
"We must beware that in our quest for equality we do not simply end up with free entry into the world of the ulcer and the coronary," she wrote.
"It is not a sign of revolution when the oppressed adopt the manners of the oppressors ... neither is it a sign of revolution when women ape men."
I resigned as a daughter of the revolution immediately and walked away from the corporate world I had worked so hard to become part of ... as a man.
"You're doing what?" said my 24-year-old daughter, who has read more feminist literature than I have.
"Supporting - you know encouraging, caring, sympathetic, reassuring, understanding, concerned, helpful, kind. The sort of thing I do for you and your siblings."
"And where may I ask is feminist Wendyl in all of this?"
"Right where she needs to be. Equal - I still earn my own money. I make my own choices and I'm happy, which has to be in the feminist mantra somewhere.
"Anyway I'm just making a coffee for Paul, he's been working so hard and really needs a break. Would you like one?"
"Go on then," she said. "Don't forget to put your pinny on and touch up your lippy first."
Wendyl Nissen is an Auckland journalist who also writes a food column for the Weekend Herald.