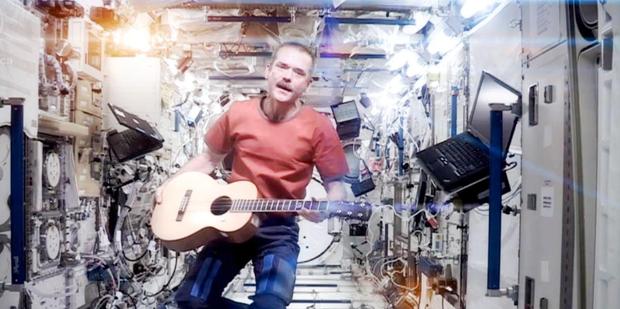 By now you may have seen Canadian astronaut Chris Hadfield's video of his version of Space Oddity, the David Bowie song, shot and recorded in space.
Hadfield has been credited with making space interesting again, with his twitter and Facebook commentaries, posting videos on YouTube and taking beautiful photos of Earth (including some lovely shots from far above New Zealand). He's a character, obviously, and one who communicates as adroitly as a teenager - in transmedia.
Commander Hadfield had been up there since December 21st last year, and his team (Expedition 35) docked with the ISS after a two-day flight aboard a Soyuz TMA-07M. His most popular video had over 7.5 million views, with several more in the millions or hundreds of thousands, until Space Oddity which had surpassed 11 million views when I checked. More than a million people followed the commander's Twitter and Facebook accounts.
Gizmodo has posted a 'supercut' of 100 seconds of his video efforts.
Hadfield is back on Terra firma now. Pavel Vinogradov has taken over as the International Space Sation commander, helping the three astronauts into the Soyuz capsule. And while Hadfield could have done all the transmedia he did with Windows' based laptops and Android tablets and smartphones, he didn't - the astronaut used an iPad.
In recording his many video transmissions from space, Hadfield used an iPad as a teleprompter thanks to the Teleprompt+ app. The Bowie song was recorded in space using Hadfield's iPad with Apple's GarageBand app, but the video was actually edited back on Earth by his son Evan.
Of course, iDevices have been in space before. There were two iPhone 4s on the last shuttle mission in 2011.
The iPhones ran an experimental app called SpaceLab for iOS, designed by Odyssey Space Research. Once the space shuttle Atlantis docked with the International Space Station, crew members used the iPhones to conduct four experiments thanks to the iPhones' cameras, gyroscopes, and other sensors. The step-by-step instructions for each experiment were contained within the app, so the astronauts didn't need printed instructions to direct them.
But an iPhone had gone beyond the atmosphere before that: in 2010, Brooklyn-based cinematographer Luke Geissbuhler, assisted by his son, launched an iPhone 4 and an HD video camera into space using a weather balloon. The balloon was launched from Newburgh, New York, and climbed to nearly 32kms above the surface of Earth in an hour. The balloon then burst and the package containing the iPhone and the camera fell back to the ground on a parachute.
The father-son team tracked the package using the iPhone's GPS and found it in a tree 48 kilometres away. They then successfully extracted the video and edited it - some of the images are beautiful.
I even joked a few months ago that the Mars Curiosity was powered by an old iMac, Apple, which isn't strictly true. It is a PowerPC variant, and PowerPCs were Mac CPUs until Apple made the big switch to Intel. PowerPC, an Apple-Motorola-IBM project, were then used in the Xbox.
The two on-board Mars Rover computers are called Rover Compute Elements. They operate at a lowly peak of 200 megahertz and one works at a time to control the Curiosity's forays across the surface of the Red Planet. Each computer's memory includes 256KB of EEPROM, 256MB of DRAM, and 2GB of flash memory.
The Mars-faring electronic brains controlling NASA rover actually have far less horsepower than microchips found in current smart phones. An Apple A5 processor at 800MHz is fully four times more powerful than the 200MHz chip aboard Curiosity. The 512MB of RAM on the iPhone 4S doubles what Curiosity packs, and if you've got a 64GB phone, that's 32 times more storage than the rover. but the rover has a plutonium reactor which is maybe a more dangerous than an iPhone battery, but it lasts a lot longer.
The low-powered CPU's real challenges are in programming genuinely mission-critical software. Now that's lean coding! Ben Cichy, a senior software engineer at NASA's Jet Propulsion Laboratory in Pasadena, California, told CNet "What's hard about this, my phone has a processor that's 10 times as fast as the processor that's on Curiosity and it has 16 times as much storage as Curiosity has and my phone doesn't have to land anything on Mars. All my phone has to do is follow (a) Twitter feed."
The main advantage of the RAD750 PowerPC microprocessor is that it's virtually impervious to high-energy cosmic rays that would quickly cripple most computer chips. Not that it's going to come back and rescue us after a nuclear incident. CNet has a lot more info about the details of the Mars Curiosity CPUs.
But are there Samsung Galaxys in the galaxy? Not that I know of. But it has to be kind of inevitable.