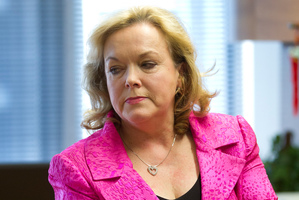 It was the Government's idea to put MMP to a referendum at the last election and it was the Government's idea to load the odds in favour of retention by promising a review of MMP if it was endorsed. We will never know how many of the nearly 58 per cent who voted to keep the system did so because they believed it would be improved.
Anyone who cast their vote on that assurance has been deceived.
The Electoral Commission duly conducted the review and suggested some subtle improvements, but this week Justice Minister Judith Collins announced that nothing would come of it because there was "no consensus, or even a majority across Parliament" for any changes.
This is not Ms Collins' finest hour. Her inability to forge a cross-party agreement contrasts with the efforts of National's previous Justice Minister, Simon Power, when electoral finance law presented a similar problem. Where there is a will there is usually a way. A cavalier Ms Collins clearly lacked the will.
A summary she has issued of the various parties' positions shows no shift from the views expressed after the commission tabled its advice a year ago. There was no consensus then because National opposed all of the commission's suggestions.
Most notably, the commission wanted to abolish the strange rule that gives proportional representation to a party wining a single seat. To make it a little easier for small parties to get into Parliament without the one-seat rule, the commission also recommended the threshold be lowered from 5 to 4 per cent of the nationwide vote.
Its other changes were largely consequential: to abolish "overhang" seats (where electorate seats exceed a party's proportional entitlement, temporarily increasing the size of Parliament) and let those seats reduce the number of list seats in the House.
National opposed all these changes, having recast the results of past elections as though the proposals had been in force and discovered both Labour and itself would have had greater difficulty forming governments after those elections. It is always dangerous to look backwards in self-interest; National could easily discover an unchanged system favours Labour after the next election.
If National continues to depend on parties that win a single seat, it is betting on long odds. It is just as possible that the party would be better placed if it agreed to rules that reduced politics to a three-horse race. An electorate facing a simple choice of National or Labour-Green might surprise the pundits.
Rather than debate fine calculations of self interest, parties might find their best interest is served by simply doing the right thing. An objective view of MMP would conclude that the one seat and the overhang are needless. Even the royal commission that conceived the system cannot remember the reason for them.
It is probably too much to expect political parties ever to agree on improvements to the system. MMP was the product of a rare alignment of planets in our political experience, a salve to the bruises of economic reform.
So far it has produced stable government as well as more diverse representation but it is not perfect.
It rankles with voters that defeated electorate MPs can get back into Parliament on the party list, and it is a weakness that list candidates such as Aaron Gilmore do not face a personal public test. None of the parties, nor the Electoral Commission, wants to change those elements, though. Parties can reach a consensus when it suits them.
MMP requires more consensual leadership on some issues. The minister charged with its review has failed its test.