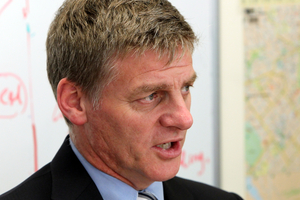 Tomorrow Bill English will deliver this Government's fifth Budget. Five years is a long time in economic terms, long enough for a complete cycle of expansion and contraction in the normal course of events. But the boom that ended in 2007 had lasted somewhat longer than five years and the global economy is taking longer than normal to recover. The Government is clearly tired of waiting.
Giving a foretaste of the Budget last month, the Finance Minister said, "There is no economic wave coming to pick us all up, so we have to get paddling ourselves." In other words, the boom is not coming back, there is no point waiting for it. The low growth since the global financial crisis is the world we must work in as far ahead as anyone can see.
For the Government, that means tightening the purse strings, not using deficits to maintain activity until stronger growth returns. Mr English said the Budget would show that it remains on course for a surplus in 2014/15. That is too fast for some of its critics. Brian Gould, a frequent contributor to our Dialogue pages, calls it austerity and has long argued that it is the wrong fiscal stance for this phase of an economic cycle.
It would be wrong if we were in a normal cycle but clearly we are not. New Zealand is in better condition than most Western countries because when the global crisis occurred it had been running Budget surpluses and reducing public debt for 15 years. As Mr English sees it, "Relatively low debt helped weather the last storm, we need to get ready for the next one."
That will require not only balancing the budget from next year but running large enough surpluses to meet the Government's second fiscal target: reducing net debt to 20 per cent of GDP by 2020. Mr English said bluntly, "That means fiscal responsibility will be permanent."
Whether the economy is ready or not, the Government clearly wants to return to the task it set for itself before the global crisis - transferring the thrust of national investment from domestic consumption to production and exports. In the years following the crisis, Mr English believed the slump was producing the transformation he wants. Resurgent house prices now suggest he is wrong.
In his pre-Budget speech, Mr English noted that house prices in Auckland are again high by an international standard and that New Zealand households are the most indebted in the developed world. But the only solution he envisaged was to improve the supply of houses, particularly in Auckland.
The "accord" announced with the Auckland Council last week is likely to be the extent of the Budget's initiatives in the housing market. It will allow parts of Auckland to be designated special housing areas where previous development restrictions can be over-ridden and planning applications will be answered within three or six months, not the year or three they take at present.
It remains to be seen whether faster planning procedures can produce an additional 9000 houses next year, an ambitious increase on the 3600 houses built annually over the past four years. Auckland's housing problem is affordability, which might not be solved unless residential rental property becomes a less attractive investment. Mr English took one step in that direction in 2010, removing tax deductions for depreciation, but seems unlikely to go further in this Budget.
"I don't think you will see any big surprises," he said. With growth at 3 per cent, business confidence improving and unemployment relenting a little, he has no need to surprise. A Budget that puts crises behind it and faces a realistic future would be enough.