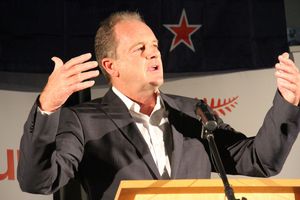 Labour might sound like it is talking tough on the SkyCity international convention centre deal. However, should the party be running a coalition government with the Greens after next year's election, it is unlikely to countenance any attempt by its minor partner to scuttle yesterday's deal between SkyCity and National.
National has Labour over a barrel and Labour knows it.
Labour leader David Shearer admitted as much by castigating the deal as "outrageous and reckless", but then refusing to commit to legislation which would overturn it.
In particular, Labour and the Greens are unhappy with compensation provisions in the deal which are seen as trying to stymie future governments from tightening up on gaming laws.
Labour is being far more cautious when it comes to promising action in government, however.
For starters, by the time next year's election rolls around, up to 1000 workers will be swarming over the convention centre's construction site in downtown Auckland. Is Labour going to tell those workers their jobs are at an end? What would Labour do with the unfinished building?
What kind of message would that send to the thousands of people - many of them Labour voters - in search of a job when the convention centre opens in 2017?
Labour would also have problems at the other end of the scale. It has already annoyed some business quarters with its intention, along with the Greens, of intervening in the wholesale electricity market.
Does the party want to send a message that it will further regulate or legislate in other sectors?
The other option is to compensate SkyCity. Labour would not want to be seen as being fiscally profligate, given it is already behind the running with voters when it comes to judging which of the two major parties is more fiscally responsible.
The reality is the debate over the convention centre has shifted away from the morals of pokie machines to being about investment in Auckland, and above all, jobs. Labour cannot afford to find itself on the wrong side of that debate.
Labour might be well advised that the ground has shifted and it is better to find other battles to fight.
Debate on this article is now closed.