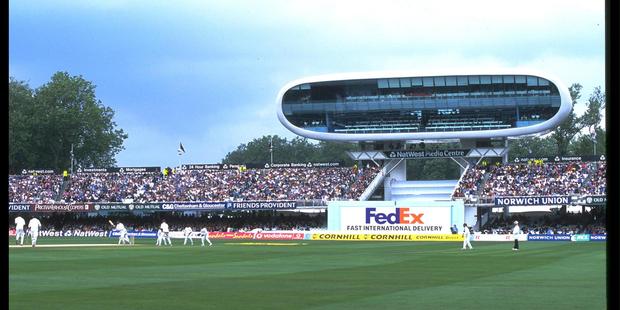 Controversy is no stranger at the door of the Marylebone Cricket Club.
The Middlesex county club are based at Lord's, home of the MCC. When the game's most famous club allowed Middlesex members - as distinct from their own, 18,000-strong body - to bring guests into its pavilion, which houses the holy of holies, the Long Room, for T20 games last year, it produced what might be termed an unsurprising reaction from the faithful.
To quote John "Fingers" Fingleton, an MCC stalwart: "I cannot ever recall experiencing the pavilion ... so crammed with such predominantly repulsive, ill-behaved, apologies-for-members-of-the-human-race, what I would regard as The Great Unwashed.
"I have never recognised so few of my fellow members in the pavilion at any previous match. The Long Bar was jammed to capacity with mobs of ill-dressed, screaming yobbos - and that was just the men."
When Fingers' thoughts appeared on the MCC's inhouse online site, since closed, one supporting reaction was: "I even saw one of the ladies drinking lager from a pint glass."
That's one perspective of Lord's, where women were not permitted to be members until the late 1990s.
Here's another. You can get a guided tour of the game's most famous ground, which among other treats takes you into the visiting team's dressing room. We were all warned, no photography allowed in the room.
One man naively turned and took a shot out over the ground from the balcony, and received a ferocious bollocking from the guide, who was battling short man's complex. He also hailed from "up north", so it was a wonder he'd got a job in the first place.
On one visit, being shown around the ground by the wife of a prominent cricket personality, we approached the door to the Real Tennis court behind the main pavilion.
"I'm sorry madam, you can't just walk in here without being a member," she was told.
At which point, she drew herself up and announced: My husband is ... and this is my guest from New Zealand".
"Oh I am sorry madam, please come in, take your time."
Lord's has the game's most notorious gatekeepers, who have been known to block players taking part in a match from entering because they had misplaced their ticket.
One who was safely inside the ground, and the dressing room, was quirky English batsman David Steele. The grey-haired veteran was called in to help bail England out against Australia in their pomp in 1975. When it was his turn to bat, he went down one flight of stairs too many and found himself in the toilet.
Journalists who turn up without their tie don't get past the door, either, as more than one can attest.
Its stuffiness and unbending rigidity to its rules is not to everyone's taste. Still Lord's, with its 1.8m slope from one side to the other, its Long Room and bacon and egg tie-wearing members, is cricket tradition like nowhere else in the game and should be on every cricket lovers' must-visit list.
That's what New Zealand have in store next week. Only three of their squad - captain Brendon McCullum, Ross Taylor and Tim Southee - have played there before.
McCullum made 96 and 97 in his last two tests at Lord's. Third time lucky would put his name on the dressing room honours board for those who have scored a century, or taken five wickets in an innings there.
New Zealand have 12 batsmen on the board - Martin Crowe is there twice - and four bowlers. Richard Hadlee appears three times, Dion Nash twice, for his 11-wicket haul in 1994.
Now there's an incentive next week.