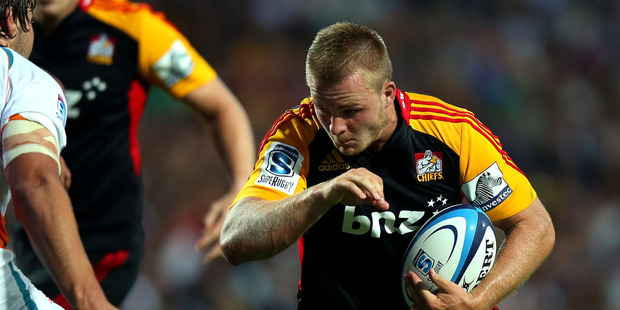 Each day this week nzherald.co.nz looks at the progress of the New Zealand Super Rugby franchises heading into the business end of the tournament. Today: Patrick McKendry grades the Chiefs.
Other reports
Highlanders: D-
Crusaders: C+
Hurricanes: C
Blues: Tomorrow
Best Result: 23-16 v Blues, Mt Maunganui, Week 7
On the surface it doesn't look like a benchmark victory, being a mere seven-point gap at home to one of 2012's stragglers. The reality was this wasn't even close. The Chiefs, and in particular Richard Kahui, took charge of this game and asserted Northern primacy over their nearest and least dearest rivals. Their final round match-up at Eden Park should be a doozy.
Worst result: 23-31 v Reds, Hamilton, Week 9
This was a painful reverse against a team that has their measure. The Chiefs were outscored four tries to two and finished eight points back, meaning the Reds took maximum out of their trip to the Tron, the home side nothing. The Reds are one side the Chiefs will want to avoid in the post-season.
Best Player:
Tim Nanai-Williams. It's not just the charge of electricity created every time he touches the ball in space, it's the fact he has stepped into an area of potential weakness for the Chiefs with the departure of SBW and the perpetual injured status of Kahui, and has kept it a strength. He's a player who deserves a close look by the All Black selectors, rather than planted whispers about his defensive foibles. Incredible attacking ability and game sense.
Biggest flop:
Ben Tameifuna. It might be harsh to call him a flop, but Big Ben's failure to kick on this season has been disappointing, although he has been showing signs of life recently. A man with surprisingly good handling skills and agility given his size, he is clearly carrying too much weight. Still a rock at tighthead though. He could be a great... or an also-ran. The choice is his.
2013 prospects:
Excellent once they tighten up defence. Haven't suffered too much from second-year blues, despite SBW's departure. Would be no surprise to see them in final again.
2014 prospects:
The Chiefs are looking at a lot of new personnel following departures of Craig Clarke, Lelia Masaga and Kahui, and uncertainty over the future of the smartest man in rugby, Wayne Smith. But given the recruiting and coaching skills of Rennie, they should be there or thereabouts again.