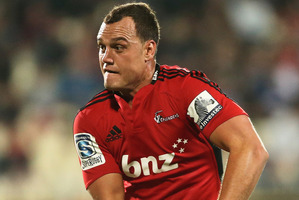 Israel Dagg's drop to the bench for today's match between the Crusaders and Brumbies speaks to a bigger, wider problem worrying a lot of rugby folk lately: the poor form of many All Blacks.
If we look at the specific first and then address the wider problem, Dagg's form is puzzling. I am not making excuses for him - everyone in Christchurch is talking about how easy he has been to bump off the tackle this year.
He has also had some difficulties getting into the games and looking for opportunities. But I don't know that it is all his problem.
The Crusaders (and I said this back in February) seem to have something missing this year. I think the game has changed again, in that the defensive patterns of most Super Rugby teams are very good.
You saw it in the Crusaders' play against the Rebels last weekend. They might have held the ball and recycled it through 27 phases but they only made 10 metres up the field.
Gone are the days, I believe, where you could consistently score tries by just recycling the ball and working through the phases.
Gone, too, are the days where a side like the Crusaders - and they were the best at it - could reclaim the ball, counter-attack and score. Defence is part of the reason for that but I think that the problem is also that the Crusaders have been too easy to read.
If you look across that backline, there are only two line-breakers: Robbie Fruean and Dagg. So you look after those two all the time, if you are the defending team. That's partly why Dagg has been getting snotted every time he gets the ball. Fruean was dropped last week and restored this week.
The Blues have been better at making the space for a line-break and executing it. They have more players capable of busting the defence, are running better lines and hitting the ball with more pace than the Crusaders. Pace is so important now; Sean Maitland had pace and line-breaking ability, too. They have missed him this year; it's no surprise to see him picked for the Lions.
At least the Crusaders have Dan Carter back this week and that automatically ups their ability to take the ball to the line - providing Carter is in form. Tyler Bleyendaal is a very good first five but he doesn't take the ball to the line and set a backline alight like Carter can. That's why players like Nonu and Fruean look so much better when he is there.
As for the wider problem of out-of-form All Blacks, a great deal has also changed in rugby since the days when I played back-to-back seasons in the Southern and Northern Hemispheres with no time for a break. Okay, the club rugby in France was ho-hum stuff but it got you motivated for provincial rugby here; doing well, so you made the All Blacks.
What modern players face is no longer than that. There was also a distinct pathway and that's been altered, too. Now you can have sabbaticals and be rotated and subbed; you can play poorly and still be selected for the All Blacks - as I am sure Dagg will be, along with Tony Woodcock, Andrew Hore, Aaron Smith and Nonu, to name just a few.
I don't know what the answer is (if I did, I'd be a wealthy man) but for me, it has something to do with a balance in life. It often seems that professional rugby has become a chore for many players. Okay, All Blacks have in past days not always shone at provincial level either but they never lacked for motivation. The competition was fierce.
I'd say to the coaches and players these days: if there's a lack of motivation, give the jersey to some other bugger. If they can't motivate themselves for what they get paid and for the privilege of playing for your country, give it to someone who can.
It's the Sean Fitzpatrick syndrome. He got a chance in the All Black jersey only because of injury and the Cavaliers tour. He was probably only fifth choice at that stage.
Steve Hansen has intimated that his two old stagers at hooker, Hore and Keven Mealamu, will be in the All Blacks in spite of their ordinary form so far.
Imagine what might happen if he said they weren't playing up to it. There's Liam Coltman from the Highlanders, Rhys Marshall from the Chiefs and James Parsons from the Blues showing promise - who's to say that one of them couldn't do a Fitzy?