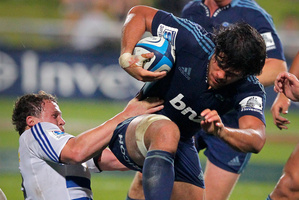 There has been many a young buck over the past few years who has wanted to prove he's the next Jerry Collins, only to hit the Stormers head-on and be made to look more like Jackie Collins.
Steven Luatua is very much the young buck of the moment - an emerging force in the Blues No 6 jersey who hit the Stormers head on last night and came out of it with his reputation enhanced.
The enforcement business is tough enough at the best of times - next to impossible against a side like the Stormers, whose pack would be well advised not to travel with Air Samoa.
Calling them big doesn't really get across the enormity of the likes of Andries Bekker and Eben Etzebeth, the muscular clout of Duane Vermeulen or explain how Frans Malherbe at 1.88m tall is precisely square.
Their sheer size, combined with their unwavering love for collisions, enable the Stormers to find out things that can be rather useful for All Black selectors to be aware of.
The Stormers wanted to know if Luatua was willing to come at them all night with ball in hand. He was. They wanted to see if he could ride the initial hit and use his leg drive to get over the gainline. He could.
They wanted to see if he was prepared to keep tackling, to keep picking himself off the ground and lunging at the ever advancing phalanx of white jerseys. He did.
Above all else, they wanted to see if he had the heart for the grit of the contest, the mental and physical capacity to be hurt and to hurt others. Rugby can't always be bonus points and dazzling off-loads.
Sometimes it just comes down to who can smash for the longest and who can be the hardest. By the second half, the Stormers were edgy - looking to intimidate and scuffle. If they had sensed the Blues were backing off, they would have upped the ante. No chance - the Blues were willing to stand their ground - and it was Luatua who was first in their faces, first to let it be known that fists would be met with fists.
Such an inquiry of Luatua was overdue. Before last night it was his work rate and range that appealed. No question he has the engine and awareness to play at the next level.
What came last night was the first irrefutable proof that he may, too, have the steel rod running down his spine and that he can tailor his game to meet requirements - he can do fast and furious and he can also do slow and thunderous.
The All Blacks are always in the market for a genuine enforcer - and they will be starting to see Luatua as just that.