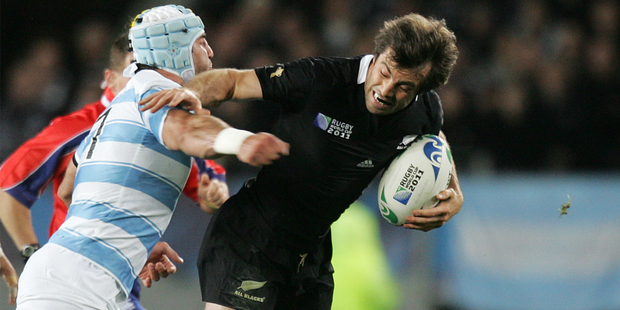 It's still 869 days away but the 2015 Rugby World Cup is today's talking point after the schedule was announced last night. Cameron McMillan has been looking over the draw, even has it printed out and posted on his cubicle already, and adds five thoughts on how the All Blacks' cup defence could play out.
'We're going to Wembley'
The All Blacks open their Rugby World Cup defence at Football HQ on a Monday morning (NZT) against Argentina. It's one of only two games to be played at the home of football - the other being Ireland against Europe 2 - due to a stadium contract with the NFL restricting Wembley's usage later in the tournament. It means tournament hosts England won't feature there, instead playing four of their five pool matches at Rugby HQ Twickenham where they will also play a probable quarter-final and possible semifinal. The All Blacks previously played at the old Wembley in 1997 against Wales when Millennium Stadium was being built.
Exorcising demons part I
The All Blacks look set for a quarter-final in Cardiff, the scene of their most recent exit at a World Cup staged in the Northern Hemisphere (we'll get to the other one soon). The All Blacks will face either Joe Schmidt's Ireland or France, who play in the final group D match at Millennium Stadium six days earlier.
An All Blacks/France re-match at Cardiff can't be ruled out since the French have finished second in their pool at the last two tournaments. The last one, of course, was in 2011 behind the All Blacks in pool A. From that 2007 All Blacks side, Dan Carter, Richie McCaw, Tony Woodcock, Andrew Hore and Ali Williams remain a chance to return, as does referee Wayne Barnes, though question marks remain over all five.
Exorcising demons part II
A Twickenham semifinal, if they get that far, also offers some a sense of redemption following the 1999 shock defeat to France. With South Africa or England/Australia/Wales likely to make that other semifinal, anything's possible but no doubt an England match-up at Twickenham at any point of the tournament would offer a more recent shot at revenge for an All Blacks squad who fell at Twickers last season.
The quick turnaround is good
Following their opening fixture against Argentina on September 20, the All Blacks have just four days before their second pool C match against Africa 1 at the Olympic Stadium. Namibia have earned that qualification spot at the last four World Cups, which would see the two nations meet for the first time. The quick turnaround has been created for the stronger nations after the likes of Samoa and Russia had to play three games in 12 days in 2011. This way sides like tier one nations who have more depth and make more changes to their lineups anyway will face a tighter schedule which just makes more sense. Both games are also in London so, depending on traffic, the time to travel from Wembley to Stanford shouldn't effect the squad.
Playing Argentina first is bad
The obvious downside of being in a weak pool is getting a decent test before the knockout stages and playing Argentina in the opening game doesn't help. It means the All Blacks three other pool matches will be against most probably Namibia, Georgia and Tonga, which all have potential for massive blow-outs. Their quarter-final opponents (either France or Ireland) will play each other the week before the knockout stages and other World Cup contenders have more challenging matches later in their fixtures list - Australia play Wales last, South Africa face Scotland second to last and England and Australia also meet in the penultimate pool game. Three 80-0 pastings of Namibia, Georgia and Tonga is not exactly the best buildup for a quarter-final but at least Tonga, who will offer a few more bruises, are left till last. How Steven Hansen's team will manage those three weeks will be huge.