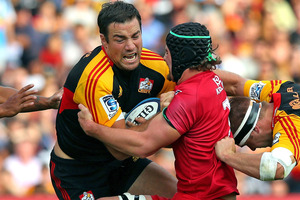 If there is a God - he hasn't heard of Richard Kahui, or maybe he has and has taken a rather spiteful view of the Chiefs midfielder.
These are worrying times for Kahui as once again his shoulder is troubling him and the early indications aren't promising. He's had a scan and the initial explorations have found yet more damage.
There will be some more probing over the next few days to ascertain the extent of the injury. Surely, after four major reconstructions in the last six years - two on each shoulder - he can't possibly need a fifth? If he does - who would blame him if he packed it all in?
He might not have a choice - his Japanese club will now be wary. They are expecting him in late August and have paid a small fortune for the pleasure. But their largesse won't extend to accepting damaged goods.
The poor man just has no luck. Having impressed in his two starts this year, he had to pull out of last week's encounter with the Sharks due to a minor hamstring strain.
He was fit enough to train fully in Sunday and take part in a tackling session.
It was there that he felt something pop and now he faces yet another anxious wait. What makes it harder, is that no one could deserve such cruel fate less than Kahui.
He is one of professional rugby's great assets. Articulate, amenable, self-deprecating - he's one of the few who has mass appeal. His star quality is more obvious on the field where he has never failed to impress.
He scored with his first touch in test football and had their been such a thing, he would have voted by his peers as the All Blacks' player of the World Cup.
He's managed to make that indelible impression despite the fact he's only had one season since 2006 that hasn't been seriously disrupted by injury. He should, really, have amassed 50 test caps. Instead he only has 17 to his credit. He should really be staying in New Zealand through to the World Cup but he felt at the end of last year that he couldn't trust his body to stay in one piece between now and then and that it would be better to make serious cash in Japan while he still could.
How little will he enjoy hearing that his instincts may have been right.