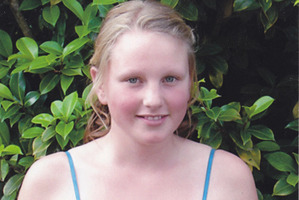 Given that Australian authorities have decided to send our trash back to us, with alarming frequency, it might be a really good idea for our government to sort out a way for the community to be alerted to the criminal expats walking among us.
The case of Jeremy McLaughlin is particularly alarming. The 35-year-old was convicted this week of murdering 13-year-old Jade Bayliss in her home.
She was home from school, sick, and when McLaughlin discovered her there after breaking into the home, apparently to terrorise his ex-partner, Jade's mum, he killed her and then set fire to the house.
He killed her in a particularly cold-blooded and brutal way. He stuffed a sock in the sick child's mouth then he strangled her with a cord.
It took about 15 seconds, according to experts. Fifteen seconds is a really, really long time. Count it in your head.
The whole while he would have been staring down into Jade's face. At any time, he could have stopped what he was doing and Jade would have been alive. But McLaughlin didn't.
And when police arrested him, he denied having anything to do with Jade's murder.
In fact, he said he was the victim of a spectacular piece of bad luck; that yes, he'd come to burgle the house but someone else had been there before him and murdered Jade.
Really? That's the best he could come up with?
Not surprisingly, the Christchurch detectives investigating the case didn't believe him and nor did the jury, who took just a few hours to find McLaughlin guilty of murder. Then, and only after the verdict had been delivered, was it revealed that McLaughlin had killed a child before, as part of a group that had set upon two 14-year-old boys in Perth.
The three thugs had beaten the boys with a cricket bat, run them over with a car, and then robbed their broken bodies. One of the boys is still alive today but with permanent brain damage; the other, Phillip Vidot, was killed.
McLaughlin was sentenced to 12 years' jail for manslaughter but, after just five years, he was released from prison and deported back to New Zealand.
The police knew of his conviction but even when Jade's mum went to the police to get a trespass order against McLaughlin, four days before Jade's murder, the police were unable to tell her of his previous conviction because of Australia's privacy laws.
Justice Minister Judith Collins and Prime Minister John Key have both promised that things will change. Collins was quoted as saying: "Public safety should be absolutely paramount.
"And frankly, I put public safety before a violent offender's right to privacy any day."
Good to hear. It sounds like change is coming. But that will be of little comfort to Jade Bayliss' family.
Debate on this article is now closed.