This is the way the great Black Caps captaincy scandal ends, not with a bang but a whimper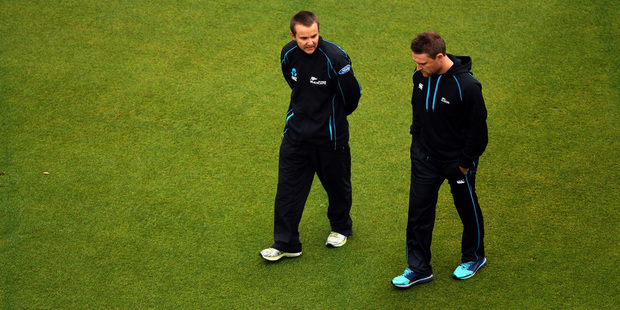 Dreadful news this week for those who savour public airings of other people's dirty laundry, ie, the vast majority of us: Black Caps captain Brendon McCullum will not be seeing John Parker in court after all.
At the eleventh hour Parker, the frontperson for a gaggle of disaffected former players, apologised for claims made in a dossier which, while ostensibly critiquing New Zealand Cricket's (NZC) governance, went to some lengths - 77 bullet points to be precise - to breathe fresh life into the conspiracy theory swirling around Ross Taylor's sacking and McCullum's subsequent elevation.
Notwithstanding its claim that it "respected Brendon's efforts to protect and restore his reputation", the sigh of relief emanating from NZC headquarters would have been almost as prolonged and heartfelt as the sigh of disappointment from those eagerly anticipating a courtroom showdown.
One interpretation of Parker's retraction and apology is that he mistook rumour and hearsay for conclusive evidence and dashed off and circulated an incendiary j'accuse-style denunciation of McCullum's and coach Mike Hesson's conduct in the Taylor affair.
Another is that reality, in the form of a crash course in defamation law, bit Parker on the bum with a viciousness that Liverpool's turbulent striker and compulsive carnivore Luis Suarez would admire.
Defamation is unique in that the burden of proof is on the defendant whose statement is presumed false unless proven otherwise. As the eminent human rights lawyer Geoffrey Robertson, QC, put it in a letter to the Guardian: "In all other civil actions claimants bear this burden, which is logical and fair since they are the party using the process to drag others into court."
This would have meant that McCullum wouldn't have had to prove anything beyond the fact that Parker's allegations caused reasonable people to think worse of him. A random sample of sports talkback would have nailed that, although I suppose the reasonableness of people who ring radio stations to foam at the mouth is open to question.
Parker, on the other hand, would have had to prove his claim that McCullum had known Taylor was going to be sacked.
Perhaps Parker heard - or thought he heard - something along those lines from people who were in a position to know. However, it's one thing to spill the juicy details over a quiet beer with a mate, quite another to do so in open court and under cross-examination.
If Parker did have sources other than his imagination and/or a tendency to make two and two add up to 17-and-a-half, it may well be that they headed for the hills when it was put to them that they should tell the judge and jury what they'd told him.
Had the action proceeded, a cricketing who's who could have been called upon to testify. To provide some background Parker's legal team might have asked Taylor to elaborate on former Black Caps assistant coach Trent Woodhill's statement that during last year's West Indies tour he was "really frustrated with the way Taylor was being treated, not by anyone other than the manager and a few of the senior players who weren't giving him the support he needed".
NZC must be mightily relieved that it never got to the point of players and coaches past and present squaring off in court. Whatever the outcome, such a development would almost certainly have put an end to some individuals' involvement with the Black Caps.
While McCullum will feel vindicated, he too may be quietly grateful that the matter didn't end up in court. Defamation actions have sometimes produced pyrrhic victories and occasionally proved to be weapons of self-destruction.
People have gone into bat for reputations that existed primarily in their imaginations. To paraphrase T.S. Eliot: "Between the image and the reality, between the emotion and the fact, falls the shadow."
Oscar Wilde's libel prosecution of the Marquess of Queensberry was the catalyst for his own ruin. Given what we know about Wilde and what he knew about himself (unless he was schizophrenic), it defies belief that he sued a rich bully for calling him a "posing somdomite (sic)".
Presumably the Taylor affair will now fade away and we can do what we've been urged to do ad nauseam: move on.
While cricket is the winner, one can't suppress a flicker of regret that, to mangle The Hollow Men again: "This is the way the great Black Caps captaincy scandal ends, not with a bang but a whimper."