New Zealand's version of worldwide television phenomenon turns out to be strangely difficult to resist.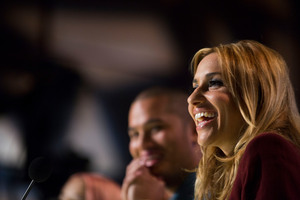 Ethan the apprentice embalmer didn't get through and neither did Sian the supermarket worker from Matamata, or Mason, the country-singing silage contractor from Gore.
But Nick the Oamaru lineman and 17-year-old Finlay Robertson, who sang a raunchy House of the Rising Sun, did - as they should have, though I don't see either of them winning the record contract and the car.
Oops, I'm involved.
Oh yes, dear viewers, the latest and perhaps greatest television talent show - so far - is upon us. It is called The X Factor NZ and try mightily as I did to not like it at all, I not only did like the damned thing (on TV3 last night at 7), but at times I may even have become emotionally involved.
It's a slick and sneaky and winning sort of show, of course. As host Dominic Bowden shouted over the X Factor fit-inducing opening sequence, it's been a "worldwide phenomenon for over a decade - and now it'shere".
Unlike TV One's recent NZ's Got Talent, this pre-packaged judgmental juggernaut doesn't pitch sword swallowers against yodellers. It's an all-singing show with a panel of all-singing judges, who will move over to become involved as mentors later in the epic series.
By epic, I mean episodes Sundays and Mondays (at 7.30) for 14 weeks, which could have you pondering how much talent you can take or indeed how much our shores could contain. Even though evidence continues to present itself that New Zealand punches above its weight with music. Around 6000 of us turned out to audition for the series.
All the same, last night I saw two contenders I'd have declared winners straight away, saving a lot of time and electricity. There was Benny Tipene, a 22-year-old sales assistant and fully constructed star, looking and sounding, with his artful dishevelment and his lonely voice, like a newborn Jeff Buckley.
And, right at the end, 16-year-old Kaikoura schoolgirl Te Ao Te Huia breaking everyone's hearts with her wonderful smoky voice and a song for her mum, lost a year ago to cancer.
Last night's show had everything - as first shows should - but most of all it had its judges, who are the stars of these careful constructions. These shows rise or fall on their performances - on their X factor even more than that of the endless contestants.
The X Factor NZ has chosen wisely, with two fluffies, in loveable local popsters Stan Walker and Ruby Frost, and two toughies - 90s English girl group singer Melanie Blatt and former chart molester Daniel Bedingfield.
Mel's scary in a rather winning seen-it-all sort of way, while Daniel's unpredictable and funny in an unscripted sort of way. He told a pair of hairy teens who'd just done a winning version of Simon and Garfunkel's Sound of Silence, "There's a hairdresser on the North Shore who's going to make some money once you've seen yourselves on television."
Loveable Stan, on the other hand, induced madness in some contestants, who appeared to have ulterior, Walker-worshipping motives for being there.
One woman begged him: "Please can I just cop a wee feel." Stan, a gentleman, got up and obliged. And when he took the stage and sang with that girl for her mother at the end, he brought the house - and doubtless the lounges of the nation - down.
Tonight, more auditions. So far, it's irresistible.
Damn it.