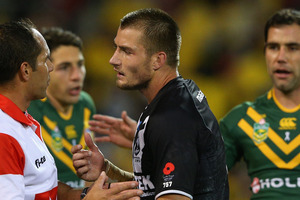 Frustrating as it is to admit, the Australian team thoroughly deserved to win Friday night's test.
However, assistance from some dubious refereeing calls left a lot of people perplexed. Captain for the night Kieran Foran must have wondered what else could have gone against his team as decisions from Ashley Klein were infuriating. But that was not the main reason for the loss and questions must be asked on the game plan.
Physically we matched the Australian team in the forward pack and knew their backline was a handful - as it proved, with all except Jonathan Thurston scoring tries. However, we did not use the size of our pack which also possesses great footwork for big men; we kept plugging away up the centre of the ruck trying to overpower the Australians.
I rate Stephen Kearney as a coach but I think the tactic of playing a Melbourne Storm-type of game does not work unless you have a dummy half and halves that take advantage of frailties in the opposition. I think Stephen may have overplayed his hand again against the masters in Smith and Cronk who've perfected the Storm's style of play.
Tim Sheens knew how it was going to happen and, from the very first set of six, the Australians generated speed off the line to the point where they were leaving early to initiate impact on the Kiwis before the advantage line. Alas, no penalty.
Conversely, the Kiwis were pedestrian defensively which allowed the Kangaroos easy metres wide of the ruck.
Unfortunately, we needed scope to vary our game plan as too much structure was limiting a creative instinct that appeared when attacking in the Australian 20-metre zone.
The loss of some our best players before this test would not have made a great deal of difference to the way we played, but I acknowledge we had the better of the first-half exchanges. We were unlucky not to have been granted two of the three disallowed tries. In particular when there was a knock-on by Greg Inglis before Jason Nightingale partially tackled him before the ball was picked up and placed down for a try.
I can live with the decision not to allow the try as there is evidence of obstruction but to then give a penalty to Australia for that obstruction where clearly the first infringement was the knock on was hard to fathom.
Compliments must go to Kieran Foran and his display as chief playmaker. He was decisive and direct which created many chances together with his kicking game. He finally had the chance to show his prowess in such leadership; which leads me to his captaincy.
His young shoulders carry an experienced head with a disposition which endured situations no first-time captain would normally deal with, but his temperament was outstanding. I look forward to seeing him play in the Kiwi jersey with the same mandate to play with the freedom to be the chief.