State Highway 1 widening project set to begin next year.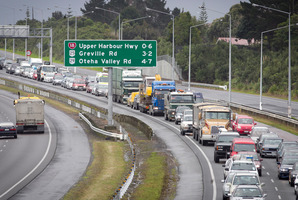 Q. State Highway 1 heading north from the Upper Harbour exit reduces from a three-lane highway down to two lanes, and then increases again to three lanes after the Greville Rd exit. This causes a huge bottleneck during peak times on weekdays, and also on weekends as well. Are there any plans to make this part of the highway three lanes the whole way through. If so by when?
Ritesh Lal, Auckland.
The Transport Agency does indeed plan to redevelop this section of the Northern Motorway from just north of the bridge over the Upper Harbour Highway. The agency says plans to widen the highway northbound from two to three lanes and upgrade the Greville Rd interchange are in the detailed design stage. The agency still has to obtain funding, but it anticipates construction will start next year and will last about 15 months. The project will help improve traffic flows and safety on the motorway and on the interchange. Longer term, the agency has plans for a motorway-to-motorway interchange connecting the Upper Harbour Highway and Northern Motorway as part of its development of the Western Ring Route.
Q. We drove down the Southern Motorway recently and noticed that the mangroves have been removed from the Pahurehure Inlet. I thought they were protected. Has there been a law change?
Karen Bridge, Auckland.
Angela Jones, senior media adviser for Auckland Council, kindly helped out with this one.
In short, while mangroves are native and protected, it has been recognised that, in some cases, it is appropriate to remove them. These situations were identified officially under Plan Change 4.
The decision to remove is a balance between the pros of the plants (native plant, stops coastal erosion, etc) and cons (block access to the shores, etc). In this case, user access to the inlet was prioritised.
A recent release on the subject is here: http://tinyurl.com/c2sb4d9
Here is more on Plan Change 4 (Mangrove Management): In response to issues that have arisen from the rapid spread of mangroves in some parts of the region, and to address the need for a balanced policy and rule framework to manage mangroves, a plan change (Plan Change 4 - Mangrove Management) has been made to the Auckland Regional Plan: Coastal (coastal plan). Plan Change 4 amends Chapter 16 (Disturbance of Foreshore and Seabed III: Other than Dredging or Extraction), adds new definitions relating to mangrove management activities to the Definition chapter and introduces a new set of maps identifying significant areas for wading birds (Map Series 8).
A fact sheet on seedling removal under this rule has been prepared to provide advice on this rule and on undertaking seedling removal activities: http://tinyurl.com/d63lc9f