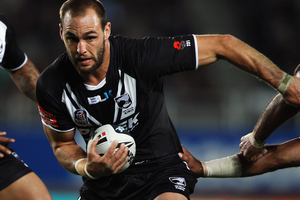 Do the Kiwis stand any chance of beating Australia in Canberra on Friday? Justis Kamu looks at the Kiwis' upcoming game, along with the six key issues in the NRL.
1. Injuries, suspensions hurt Kiwis
The Kiwis and Kangaroos Anzac test at Canberra Stadium this Friday is going to be an uphill battle for NZ who are without three of their best players.
Sonny Bill Williams, Benji Marshall and Jeremy Smith have been excluded because of injuries and suspension respectively.
Their presence in the side would certainly have provided their teammates with inspiration and intimidated an opposition who are the world's best.
The Kiwis have made significant strides in recent years to close the gulf in class that that existed between the two sides.
The test will be a true examination of the depth in the Kiwis squad who pale in comparison to the Kangaroos in terms of players that are classed as elite.
In the Kangaroos camp Billy Slater, Jonathan Thurston, Cooper Cronk, Cameron Smith, Greg Inglis, Justin Hodges and Paul Gallen would fall into this category.
For the Kiwis Williams, Marshall, Smith and maybe captain Simon Mannering would be regarded in that group.
Even though the Kiwis face an imposing opposition they do have a few positives.
They've selected a balanced forward pack that can play expansively or grind out a tough battle upfront.
In the halves they are short on experience with Kieran Foran and Shaun Johnson but the mystery of their partnership may provide an element of surprise.
It's a no-contest out wide with the Kangaroos naming a star studded back division although Darius Boyd's worrying club form could see his wing targeted.
If (and that is a big if) the Kiwis can score early and defend their tryline stoutly keeping their opposition at bay for the first stanza it may see an unlikely victory for New Zealand.
On the other hand if the usual suspects of Slater, Thurston, Cronk and Smith get their combinations clicking early - that elite difference is likely to make this another forgetful Anzac experience for the Kiwis.
2. Warriors recruitment crucial to success
The Warriors 20-16 defeat to the Raiders on the weekend has left them with a 1/5 record after six rounds.
A number of teams have climbed to the playoffs from a similar position, yet none have gone on to win the premiership.
A number of clubs have already made key acquisitions for the 2014 season such as Corey Norman heading to Parramatta and Elijah Taylor and Brent Kite heading to Penrith.
The Warriors have yet to sign anyone for next season instead focusing on retaining the services of Feleti Mateo and Manu Vatuvei.
They are indeed handy players to have in any side but in order for the club to rebuild its flailing brand, a couple of signings can rebuild the faith.
You only have to look at the turnaround the Roosters have had this season with coach Trent Robinson, Sonny Bill Williams, James Maloney and Sam Moa adding steel and pizazz to last year's 13th best team.
Certain individuals mentioned below may not satisfy Warriors fans but there is a definite need to solidify positions in the squad.
Prop - Bryan Norrie (Storm)
A mainstay of the premiership winning side of the past three seasons, Norrie would be a welcome addition to a Warriors side in need of an elder statesman upfront.
Wing - David Williams (Sea Eagles)
The beast and wolfman on opposite wings will be a hairy affair for Warriors opponents. A crowd favourite at Brookvale a trip across the ditch may not be his preference. He has been sidelined lately because of injury but on his day he is a quality winger.
Second row: Mitch Aubusson (Roosters)
He plays big for a man who stands at 5'11. A hardworking backrower he is a rugged defender but also brings a direct hole running approach to the attack. He's hugely underrated on the representative front and would be a classy signing for the Warriors.
Standoff: Take your pick from Todd Carney (Sharks), Trent Hodgkinson (Bulldogs) or Jamie Soward (Dragons)
- All three playmakers are match winners, can kick goals and are off contract this season at their respective clubs. Although Hodgkinson hasn't played regularly for the past two years, at 25 years old, he still has his best football ahead of him.
3. Maloney closing in on NSW jumper
Former Warrior James Maloney underlined his potential for a possible call up to the NSW State of Origin side with a leading role in the Sydney Roosters 38-0 victory over the Bulldogs last Friday night.
It's not that Warriors fans needed to be reminded of his ability with the Australian larrikin picking up the man of the match award as he scored a try, converted seven attempts at goal, lay on a try assist and complete 24 tackles.
Having taken his talents to the bright lights of Sydney he is certainly in the right place for his talents to be recognised by selectors of the cockroaches.
Also working in his favour is his partnership with NSW halfback Mitchell Pearce at club level which has led the side to a 4/2 loss start to the season.
NSW Laurie Daley has stated that he will stick with the incumbent number seven so finding a suitable halves partner is a priority.
With last year's standoff Todd Carney out injured and Josh Reynolds joining him on the sidelines, this weekend's City v Country match is Maloney's best opportunity to convince NSW selectors that he is the best option in the six jumper.
4. Samoa, Tonga stacked with talent
The other international rugby league test match this weekend features Samoa v Tonga at Centrebet Stadium in Penrith on Saturday.
Both sides have selected players predominantly from the NRL with a sprinkling of local talent.
The potential to play at the end of year Rugby League World Cup has seen a number of classy players ditch New Zealand and Australia to join the island nations.
With almost 30% of players in the NRL of Pacific descent, the pacific teams can become strong if they can guarantee a professional environment for players to thrive.
Although there has been a lot of criticism about the international eligibility rules, players moving to second tier nations should be encouraged to improve the international game.
Rabbitohs prop Roy Asotasi has been named Toa Samoa captain with former Kiwis David Fa'alogo, Junior Sa'u and Jeff Lima in the side.
Mate Ma'a Tonga have an intimidating forward pack with skipper Brent Kite flanked by Richie Fa'aoso, Sika Manu, Anthony Tupou and Sam Moa.
With a host of Super League and NRL players still to be added to Samoa, Tonga and Fiji for the RWLC.
The island sides will be in good shape to seriously test the likes of England, New Zealand and even Australia come October.
5. Your comments
From Alex O
It's a shame Benji is injured, because the inclusion of Johnson is just going to further wreck the Kiwis chances, and further inflate his ego - which by far shadows his preformances and current ability. It's a shame we have no other halves around. I'd rather Benji on one leg than Johnson with two functioning shoulders but no heart.
- S Johnson performed well in his debut match last year alongside Benji. Johnson still has to convince that he is the real deal at club and country level. Nevertheless he can cause some damage against the Kangaroos if he is given opportunity to play an open game. He's just recovered from a knock to the knee in the Raiders match so he will be under scrutiny from the green and gold. Over the past month Johnson's game has improved and if he can transfer that to a Kiwis jumper New Zealand is in with a chance, albeit a slight one.
From Uilam Osa
I think the way Mannering has been used is just the nature of the current teams depth. He had a massive game and for the most part was acting like the 2nd Prop. Hopefully the addition of the 4 prop rotation will enable him a little bit more breathing room. He's obviously not an SBW but he's hugely consistent from minute 1 to 80. ...
It's fair to say that the Foran/Marshall combination hasn't worked. They've had a few test matches now and had almost zero improvement.
- When the team play badly S Mannering's performances aren't much better. He has been tagged as Mr Consistent for his earlier showings in the Warriors strip from 2007-2011. Unlike others in the side, Mannering seems to miss the brush that they are tarred with when their displays aren't up-to-scratch. Maybe the public protect him too much but he was far from his best last season and has played well only in the past three weeks.
Agreed, Foran and Marshall's combination hasn't performed as strongly as many had first imagined. The battle for to be halfback is going to be a tight one particularly if Johnson can help the Kiwis to a victory this Friday. Foran needs to be in there at standoff to bring stability to a side that will have to decide whose instinctive flair that want to call upon -Johnson or Marshall.
6. Team of the week - round 6
1. Fullback - Corey Norman(Broncos)
2. Wing - Edrick Lee (Raiders)
3. Centre - Jack Reed (Broncos)
4. Centre - Justin Hodges (Broncos)
5. Wing - Daniel Vidot(Dragons)
6. Five-eighth - James Maloney (Roosters)
7. Halfback - Mitchell Pearce (Roosters)
8. Prop - Ben Hannatt (Broncos)
9. Hooker - Cameron Smith (Storm)
10. Prop - Luke Douglas(Titans)
11. Secondrow - Greg Bird (Titans)
12. Secondrow - Sonny Bill Williams (Roosters)
13. Lock -Trent Merrin (Dragons)