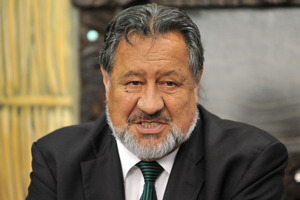 Fans of the rather spectacular David Attenborough Africa series will have observed similarities between the great giraffe turf war in that programme and the battle underway in the Maori Party.
For four months leader Pita Sharples and Te Ururoa Flavell have been flailing their necks about with vigour and head-butting each other in the bid to control the savannah.
Sharples has shown some alacrity in the battle.
In a bid to quell the perception he was getting too old to attract younger voters, the 71-year-old Sharples set up a Twitter account with the cuddly handle of @papapita - his nickname.
It's an oddly passive-aggressive display. Both undercut their opponent without directly attacking them. Sharples has claimed that only he can save the party from a certain demise, because only he has the networks and broad appeal needed to nurture the party through the departure of Tariana Turia.
That does a disservice to Flavell, who has effectively taken on many of the jobs the party leader would usually do in representing the party at a grassroots level. Flavell has also assiduously worked on building his own connections with other MPs across Parliament and is widely respected as a result.
It is a trickier battle for Flavell, whose chances would only be wounded if he did anything that might strip Sharples, still a beloved face, of dignity. He has stuck to pointing out the need to get a succession plan in place at some point, and subtly pointed to the majority he has in his electorate - a relatively healthy 1833 compared with Sharples' 936 in 2011.
His sharpest weapon so far has been in publicly stating he would consider resigning if he was not given a chance to secure the leadership soon - a statement Sharples has criticised as a form of blackmail.
There are equally convincing arguments in favour of each man.
Sharples' boasts about his merits might sound big-headed, but he is also right. He has experience in an election campaign, he and Turia have been the faces of the party since it was formed in 2004. Both are trusted and well known. For both to leave at the same time could be catastrophic.
But Flavell is also now better known and has one critical point in his favour. If Labour and the Greens are polling within a cooee of forming a Government by 2014, the Maori Party's best tactic to stop its votes going to Labour candidates instead will be to show it is willing and able to work with Labour. It will also need to get some form of nod back from Labour that it is a potential dance partner. In the last two elections, that has not been such a priority because it was clear National would win - with or without the Maori Party. Flavell has the best chance of pulling that off. Sharples is perceived as too wedded to National to be believable on that point and Labour's Shane Jones (and Sharples' likely rival in the Tamaki Makaurau seat) has no compunction about pointing that out regularly.
Flavell's frustration is understandable. He has long been the obvious replacement as male co-leader and Sharples has dangled the carrot of the leadership before him before only to retract it again, like a child teasing a pet with a treat.
Whatever the personal merits of each man, the party is in a Catch-22.
The party's survival depends on its ability to hold its electorates. It once had five, but now has three. Labour has been in a slump for the past two elections, but could well be resurgent in 2014 which will be bad news for the Maori Party.
Sharples' hold on the Tamaki Makaurau electorate is already tenuous. He is probably the party's best hope to hold the seat in 2014, although the current battle of egos will do little to enhance that. But if he loses the leadership, it is almost certain that the party will lose that seat as well.
What should and could have been a tidy handover is now very messy indeed, largely thanks to egos and stubbornness.
The party's processes are not helping. The Maori Party's constitution is so vague that the party appears to have no idea how to go about handling a "challenge" or how a new leader might be anointed.
The ruling principle appears to be one of causing no offence. So at the meeting at which the issue was meant to be decided, all that was decided was to hold yet another meeting. Somehow Tuku Morgan - who has no history with the Maori Party - got involved, apparently at the behest of Sharples, and ended up chairing the meeting that was meant to resolve the issue.
That meeting did no such thing, although whispers have subsequently emerged that five of the seven electorates were in favour of Flavell - but a majority was not considered enough for the change.
Who will win nobody knows. But let me go out on a limb and pick Flavell for the same reason Labour's Shane Jones has given: what Turia wants, she usually gets.
The trouble is that by then, the two battling giraffes could have done so much damage to the savannah that there will soon be no savannah at all to rule over.