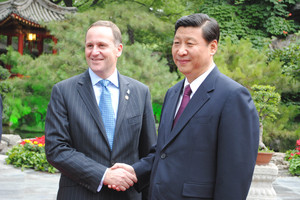 New Zealand's ambassador to Beijing, Carl Worker, passed on a salient fact to Prime Minister John Key while they were waiting for President Xi to welcome them into the meeting room at the stately Bo'ao guest house.
If the southern Guangdong province (where Key arrived last night) were to break away from China - and there's no suggestion it ever would - its economic strength is such it would immediately be in the G10, the top 10 economies of the world.
Key recounted the fact on the balcony of his own hotel in Bo'ao before a mad dash to the airport for the next leg of his trip (to Guangdong) because the meeting with Mr Xi had gone well over time.
Mr Key was fizzing about the meeting about the state of relationship so far, the personal rapport between the leaders themselves but mainly because of the readiness of both parties to take it to a new level.
The fact that Key could raise something as serious as direct currency conversion between the Kiwi dollar and the reminbi with a senior minister at lunchtime and have it ticked off by Xi for further work in the talks a few hours later would make any former banker go giddy.
But it's not just a new level of investment in finding ways to make money as China's living standards continue to rise.
The new broom in the China leadership is ushering in a new era of trust in the relationship - after five years of a free trade agreement.
China liked that New Zealand did what it said it was going to do, Key proudly reported.
Key said Xi was the sort of bloke you could imagine sitting down and having a beer with.
Ironcially, the personal connection was strengthened after an incident at Parliament involving a Tibetan flag and Green co-leader Russel Norman and Chinese security.
It was a pretty undignified welcome to the place and Key later bought Xi a pounamu patu by way of a personal apology for not handling the situation better.
But that's been long forgotten.
Now it's about the future.
The scale of development is huge - Xi said yesterday within five years it is projected that China's imports could be worth $US10 trillion.
He could see a day when 400 million Chinese a year could be outbound tourists.
Key says it is a once-in-a-generation development of a country of such scale.
"It's hard to believe it not going to change the world forever."
It's hard to believe it's not going to change New Zealand forever, too.'