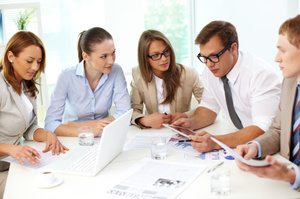 It's been thirteen years since I last explored the fascinating world of "corporate speak" in Maybe it pays to touch base with business-jargon users, in which I drew attention to the technique of "linking a series of phrases together in a manner that sounds impressive but actually conveys very little". Some of the examples given were: "I'll take that on board", "Let's touch base later", "At the end of the day", "Let's take this offline" and "We'll take the helicopter view on this".
So it's about time we took a fresh look at this ever evolving, perennially interesting, subject. I must confess I took inspiration from a recent Twitter conversation between local wordsmiths Finlay Macdonald, Bill Ralston, Mark Reynolds and David Slack. (Yes, I should probably stop the online equivalent of eavesdropping - or else this convivial quartet could consider not conducting private discussions in a public forum. I'd like to think we're roughly equally guilty when it comes to poor internet etiquette.)
Between them these men came up with some fine examples of verbosely saying very little. These included: "best practice", "blue-sky thinking", "going forward", "low-hanging fruit", "monetize that idea", "skill set" - and "perfect storm" which Slack defined as "the predictable coincidence of two adverse events". I'd like to add "future proof", "halo effect", "hired guns", "let's lawyer up" and "robust discussion" to the list of phrases overused in the corporate world.
But for the definitive guide to this topic we must turn to The Office Life's Ridiculous Business Jargon Dictionary which catalogues every meaningless, redundant, self-important sentence or collection of words ever uttered anywhere - such as "balls in the air", "bang for the buck", "career-limiting move", "change management", "core competencies", "keep your powder dry" and "resonate".
The introduction states: "Do you wonder where your co-workers picked up all the ridiculous things they say? From fresh-faced interns to top management, everyone drops one of these gems occasionally. We can only hope that you're not here to actually add buzzwords to your vocabulary."
Here are definitions of a few of its more notable expressions:
Can I stir fry an idea in your think-wok? "Could I have your opinion on this issue?"
Checked Eskimo: When a clearly unqualified individual lands a job or promotion they should have had no chance of getting he (or she) must have "Checked Eskimo" on the application.
Come-to-Jesus meeting: A serious meeting that often involves an ultimatum if performance does not improve.
LOMBARD: Lots Of Money But a Real Dumbass
Malicious obedience: The act of following a boss's instructions explicitly, while hoping for failure.
My understanding: A fine bit of rhetoric that avoids committing to a definitive answer. Q: "Is it black or white?" A: "Well, my understanding is black."
Rocket surgery: A way of combining two points of reference (rocket science and brain surgery) in order to downplay the level of difficulty of a task. "Come on, it's not rocket surgery."
Two-comma: Anything that costs over $1,000,000. "We just landed a two-comma contract this morning."
With all due respect: Usually spoken just prior to showing no respect at all.
Zombie project: A project that keeps coming back to life no matter how many times it's terminated.
But my all-time favourite phrase is: "Get your people to call my people." I use it occasionally and find it just hilarious because do you know what? I don't even have people.

What do you think of corporate speak? Are you guilty of it? What other examples would you like to share?