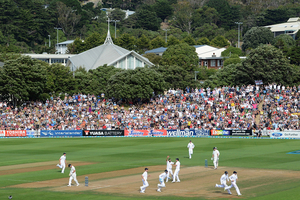 Ah, peace at last. Finally I can just sit quietly on some grass and enjoy the sombre pace of test cricket. No smash hits of the 80s, 90s and (worst of all) today polluting the game. No rushing to get beer in fear of missing half the action.
Underneath me the moist, dull itch of rye grass. In front, the soothing test palette of white on green. Around me the warm, knowing embrace of fellow test-cricket lovers. This is a place where vinegar-scented hours are encouraged to dawdle by. Where the stuffy can nestle in for the day, safe in the knowledge that nobody will judge them for being boring. Yes, test cricket at the Basin Reserve.
It wasn't my first visit to our premier test ground. I'd been a few years ago when Alviro Peterson elegantly assembled a hundred-and-something runs on a lively-ish wicket. I'd also visited once on a blustery day wearing headphones when we played India - a failed experiment which denied me the duvet-like sounds which only test cricket can produce.
Both visits were pleasant enough, but my latest excursion was by far the most anticipated, mainly because this time I had access to the entire ground thanks to the kindness and hospitality of Wellington Cricket chief executive Peter Clinton.
In the past I'd positioned myself in the northwestern quarter of the Basin with just enough height to see the ball's bounce. However, today was different. Today I was privy to the inner workings of the RA Vance Stand, a late-70s/early-80s architectural masterpiece which houses the most fervent cricket supporters in the country.
They do cricket properly in Wellington. The patronage is old. They serve complimentary tea and coffee to the members huddled together on chairs behind an eight-foot wall of glass. The men wear ties and the women know their hooks from their pulls. Today it smells like a seductive mixture of Tabac for men and Panache by Lentheric.
Cricket conversations batter the walls. An old guy with a comb-over and a blue suit jacket is talking about the merits of batting first on day one when there are clouds drifting by. Apparently the ball doesn't swing in Wellington unless there's clear blue sky. His friend thinks he's mad. Three seats along another guy with grey hair and a blue suit jacket is discussing the appointment of the new Pope. His companion is questioning how a man who's never formed an intimate relationship with another human is qualified to comment on humanity.
These people seem clever. Presumably they were the opinion leaders of their time.
Across the stairs in the Norwood Room, the New Zealand team that toured England in 1973 assembles for a reunion. Every year financier and cricket-lover Sir Ron Brierley hosts a luncheon for a different group of former internationals. I'm told he pays for all of the guests' flights and accommodation himself.
Sir Ron lives in Sydney but flies across for test matches at the Basin, such is his affection for the ground. I once read that he used to operate the scoreboard as a kid in the days before the Modernist and Don Neely scoreboards stood side by side saluting the RA Vance Stand.
I peeked inside the Norwood Room like a naughty kid looking for lollies only to see men in their 60s and 70s wearing ties and jackets looking seriously at the game below. It was obvious that there was no recreational drug use going on inside.
My bladder was full of soft drink. As I urinated in the spacious and user-friendly women's toilets, I felt relieved that test cricket will never die in the capital.