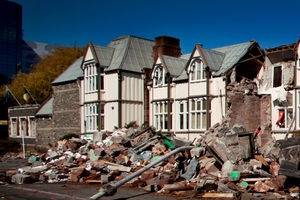 Auckland firms that send engineers and construction staff to Christchurch for the rebuild have just learned their projects are going to be much more expensive. The Commissioner of Inland Revenue has ruled that employers who send people to work away from their usual home for a period must pay tax on the value of accommodation provided for them.
The decision, which is not confined to the earthquake recovery operation, of course, has astonished tax advisers and no wonder. It defies reason and common sense.
Accommodation provided by an employer is quite properly treated as taxable income when it is a benefit to the employee. But a worker who is provided with free or subsidised accommo-dation away from home is not getting a benefit; he or she still faces the normal costs of maintaining a home without the benefit of being able to live in it.
The commissioner in her ruling last week readily acknowledged that reasoning but "the law," she said, "does not support a net-benefit approach".
She has not explained why the law does not support it. This appears to be another of those arbitrary decisions that is based on a literal and unreasonable reading of tax law.
Worse, the law was not always interpreted this way. Inland Revenue admits that its own Technical Rulings Manual reflected the net-benefit principle for employer-provided accommodation or accommodation allowances. But it says legislation has changed since it was written and the manual was discontinued in 1998.
In the 15 years since then, not many employers may have realised that Inland Revenue considered an accommodation allowance part of an employee's income and subject to PAYE. The department regards it so whether rent is paid by the employer or the employer is paid an allowance to cover it, or the employer owns the accommodation. It will be taxed as income at its market rental value.
There are some exceptions. Hotel bills for overnight or "temporary accommodation" will not be counted. In certain circumstances, Inland Revenue will make an exception for a temporary shift lasting several months. Helpfully, the department has provided a number of examples of the distinction it makes between accommo-dation that is "temporary" and that which is taxable.
Alarmingly, one of its taxable examples is an Auckland engineer sent to Christchurch for the duration of the rebuild. Though his family remain in Auckland and he returns most weekends, the apartment provided for him in Christchurch will be taxed. The distinction is purely one of time. If he is away for a few months, the accommo-dation might not be taxed, if it is for the duration of the rebuild likely to take years, it will be classed as a "relocation" with a taxable perk regardless of the fact that his home and family remain in Auckland.
The law as the commissioner reads it has made this distinction unnecessarily vague and hard for taxpayers and his department. It would be easier and fairer to use the simple test of where the family live. That defines the employee's permanent home no matter how long he is provided with accommodation in a different city.
Firms are not going to go to this expense merely to give somebody a tax-free housing benefit. There would have been no loss to the revenue when the net benefit principle applied.
The fact that the commissioner is now willing to forgive employers all but the past two or four years of the tax they were supposed to pay since 1998 suggests she is not comfortable with the law as it stands.
It needs to be fixed.