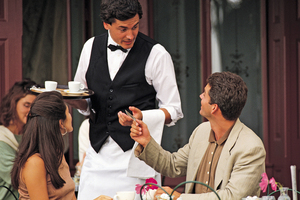 One of the great successes of modern marketing has been the mass engagement of the population in rewards programmes. The most prevalent are Fly Buys. They are awful.
Businesses do not like to discount. They know some customers are lazy and price-insensitive. Others are finicky bargain-hunters who will spend $5 on petrol to save $3 on a no-name brand of soap.
If you are a business, the problem is how to whack the indifferent for full price and discount for the cheap.
The answer is rewards schemes. The price sensitive will enrol online, swipe their card like Pavlov's pups and wait, excited, for their treats.
I'm 47, unfit and overweight. I can hear the Grim Reaper pacing behind me, so I do not want to waste precious minutes swiping endlessly so I can earn the 230 Fly Buys to buy four Jamie Oliver wine glasses. I would need to spend $11,500 with Contact Energy to earn these.
I'm slightly less impressed with ASB's True Rewards scheme, which actually charges $20 a year for the privilege of belonging to it. You must spend $150 to earn a single reward dollar, meaning you spend $3,000 a year on your ASB credit card just to recoup the $20 it costs to belong.
Given retailers can charge a premium for using a credit card, any attempt to maximise True Rewards is likely to cost the consumer money.
Normally, I do not mind because it does not affect my life, except for infuriating delays as I wait behind a petrol customer fumbling with their Fly Buys card. If they spend $90 they will earn two Fly Buys points, worth 30c at Air NZ. If they do this 2,000 times, their reward will be an economy trip to Sydney.
If I want something, I will look at the deals offered then purchase. I do not want a wallet filled with detritus of past purchases. Each purchase should stand on its own and not be a function of past transactions.
By locking yourself into a reward scheme you are enriching businesses who cannot keep your custom by superior service and price but would rather trick you with cheap trinkets. This may work short-term but cheap trinkets are no substitute for consumer sovereignty.
Cut up your Fly Buys card and get back some dignity.