The brawny and pretties rub shoulders in Gucci private suite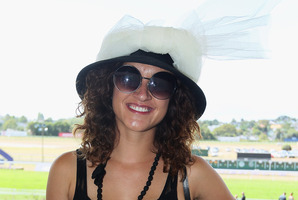 Baring a toothy grin and a taut tummy, actress Keisha Castle-Hughes was one of the high-profile pretties on parade at the Gucci private suite on Wednesday to celebrate the Barfoot & Thompson Auckland Cup Day at Ellerslie.
She supped bubbly beside Rachel Hunter and Colin Mathura-Jeffree.
Keisha's bizarre choice of headgear - knotted white netting plopped on a black felt hat - looked to be inspired by a crazed dove in flight, but did little to distract attention from her tummy-baring core. New hubby Jonathan Morrison looked pleased as punch.
So too, did Auckland City Councillor Cameron Brewer, who was busted taking photos of his new fiance Kate Barry and her ring on his phone. The photogenic pair made it into the top five in the Hawaiian Airlines Cup Couture competition.
Rugby royalty Sir Colin Meads rubbed brawny shoulders with All Black coach Steve Hansen, Blues players Tom McCartney and Keven Mealamu, and Warriors co-owner Eric Watson.
Sports buff Hamish McKay from TV3 was there, too, with colleague Mike McRoberts, who celebrated his 47th birthday at the track with his Christchurch-based brother.
No Moa sexism please
Responding to the prejudiced reaction this week by Masterton's Lighthouse Church who were uncomfortable about lesbian singer Anika Moa performing at their place of worship, the pop star has lashed out.
"Just going to lesbian myself up and go for a lesbian walk. Maybe I should eat some lesbian apples? Oops I just lesbian farted," Moa tweeted on the absurdity of the situation.
Moa came out as a lesbian more than five years ago and is in a civil union with burlesque dancer Azaria Universe (real name Angela Fyfe). The couple have twin sons, Barry and Taane, and are currently holidaying in Australia.
Luckily, St Marks Church in Carterton stepped up to play host and the concert, Up With People presents Anika Moa and Eb & Sparrow, will go ahead on March 23. Tickets are $35.
A head for celebrities
British milliner to the stars Stephen Jones is the drawcard next week at Dunedin's iD Fashion Week - his first time to the deep South. He reportedly has family in Whangarei, which is a long way from the house of Dior, where he apparently was this week at Paris Fashion Week.
Jones, who counts the heads of Kylie Minogue, Lady Gaga and The Duchess of Cambridge as clients, will showcase a 30-year retrospective of his hats in Dunedin next week, as well as guest judge the emerging designer awards.
Neill bucks the trend
Pilot season in Hollywood is "quite disappointing this time", said one Kiwi casting agent, who reckons our actors "are having a tough time getting shows up".
But veteran thesp Sam Neill is proving the exception.
His television pilot The Ordained has been picked up by the CBS network, writes the Hollywood Reporter. The Kiwi vintner will play Michael Thomas Riley, a former three-term Governor of New York and failed presidential candidate with political aspirations for his daughter.
Singing for her supper
Kiri Te Kanawa celebrated her 69th birthday on Tuesday with the good news she will cut her acting chops on award-winning British period drama Downton Abbey. Te Kanawa, no stranger to diva conduct, will play a house guest of the aristocratic Crawley family on the fourth series which is currently filming. She will, no doubt, sing for her supper.
Third degree for Guy debut
"I want to be known as Anna Guy. Not Ewen Macdonald's ex-wife," trilled the pint-sized blonde whose autobiographical report on TV3's 3rd Degree - one of three planned - drew disparaging comments across social media, leaving future stories in jeopardy.
Her contribution to the network's exciting new show offered little in the way of hard-hitting current affairs, which is what the programme purports to be.
Executive producer Terrence Taylor, aware of the negativity, is defending her tale.
"We're definitely committed to her. We're working on two more stories now ... we're looking at different ideas. They won't air in the next month, but they will be coming," Taylor told The Diary.
But insiders say reviews are under way at TV3 as to whether Ms Guy will get another run.
Co-hosts Duncan Garner and Guyon Espiner were tasked with interrogating Ms Guy in the studio. Never mind the lifestyle makeover; nor the quest for fame. The incisive political minds asked the worthwhile question: do you think your husband killed your brother?
Ms Guy bopped around the question.
"I have just gone so many sleepless nights tossing and turning," she said cagily. "I'll never know."
3rd Degree's debut on Wednesday was watched by a respectable 283,700 viewers aged over 5 (across TV3 and TV3plus1), according to Nielsen ratings.