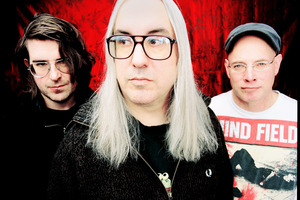 You'd expect it to be loud. And you'd expect J Mascis to be grumpy. After all, Dinosaur Jr are famous for their tinnitus-inducing noise levels and the aloof attitude of their front man.
But what you don't expect at a Dinosaur Jr live show is for the Massachusetts-based grunge-rock icons to be as cruisy and relaxed as they were at last night's Powerstation gig in Auckland.
Yes, Mascis was a typically silent presence, uttering just three words to the near sell-out crowd as he stood solemnly in front of a giant stack of Marshall amps, delivering riff after riff and solo after solo over his slacker monotone.
But Dinosaur Jr - Mascis, bassist Lou Barlow and drummer Murph - are known for their tense and at times hostile relationships, which could often be seen on stage and got so strained they took an eight-year break in the late '90s before regrouping in 2005.
So you can't blame the trio, who are nearing the 30-year mark as a band, for relaxing a little by playing plenty of material from last year's excellent tenth album, I Bet on Sky - a sun-kissed record perfect for summer road trips.
That included the down home acoustics of Almost Fare, the rumbling melancholy of recent single Watch the Corners and the jangly Don't Pretend You Didn't Know, which ended up being one of the night's most upbeat songs.
They were tempered by older tracks that provided a hair-raising trip down memory lane, like MTV's favourite slacker anthem Freak Scene and the gigantic grooves and hilarious Mascis falsettos on Start Choppin'.
And if you're a fan of the band's rawer late 80's/early 90's output, there was plenty of their sludgy stoner rock delivered over walls of feedback, like the bruising early version of The Wagon and the unhinged rawk that came with Feel the Pain - a song that had small moshpits breaking out around the venue.
Then there was the scintillating encore and set highlight that began with a cover of The Cure's Just Like Heaven before morphing into killer 1987 track Sludgefest - a song which owned its name by ending in a raucous flurry of noise.
It was a rough, rugged and raw set that proved these dinosaurs are still a long way off from moving into the grunge retirement home.
What: Dinosaur Jr
Where: Powerstation, Auckland
When: Tuesday, March 5
- nzherald.co.nz