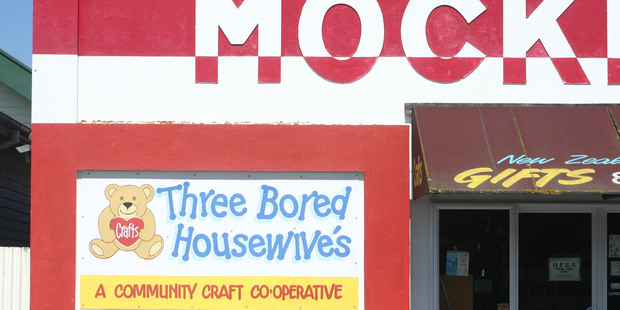 Job opportunity strangled in all that red tape
A reader writes: "A friend was looking for three new staff to work in the horticulture field in South Auckland and asked if I would drop a copy of the ad into the local Winz office at Highland Park, as I live in the area. He had worded an ad on A4 paper with the job description and I dropped it off and asked if they could put it in their system or on the noticeboard. I was then told that the employer would need to make an appointment with a case adviser. So Winz never got to post this ad as it was thrown into the bin by a very frustrated messenger. Maybe Paula Bennett should go under cover in some of her offices to see what really goes on."
Chicks for free but cheques only for winners
"On a recent road trip with the family my boys Jack, 12, and Miles, 8, spent a lot of time singing the wrong lyrics to their new favourite song Money for Nothing by Dire Straits," explains Dave. "At one stage, singing loudly during the eighth playing, I hear Jack tell Miles, 'it's cheques Miles, cheques for free'.
Then Miles says: 'Bet you don't even know what a cheque is?' And Jack says: 'Yeah, I do. It's a big piece of cardboard you get when you win a competition'."
Practical parking solution in Ponsonby
The perk parking space in Ponsonby, that our reader yesterday was uncomfortable with, is actually a driveway and the small door is a garage door. The building tenant explains: "Instead of taking up public parks which should really be left for shoppers and diners us tenants use the space - we can move our cars out of the way when access is required. If someone from the public is parked in our driveway and is blocking our garage access then they risk being towed which is what happens in any situation when someone blocks a driveway or garage access."
Yes, it takes a village ... but the idiots are revolting
A woman reported on Twitter that she was sitting in a waiting room watching a boy who had his muddy feet on a fabric-covered chair. His mother sat beside him but said nothing. Then he put them on the table. "I politely asked him to take his feet off the table and his mother went off her head at the fact that I had admonished her son," she tweeted. "Can other mothers not interact with badly-mannered children? Takes a village doesn't it?" What do you think?
Census question makes sense - it's the mothers who give birth
In the Census form mothers are asked how many children they have had, but not fathers. This is likely because mothers, who give birth, are a more reliable information source, says a reader. "Some fathers might not know how many children they have fathered but, short of Alzheimer's, I would guess most mothers remember." Another reader explains: "This would be directed at determining fertility rates in the population. Typical though, just one question for women, and it's all 'what about the men'."
Media: Pervy old Michael Laws ruminates over the name origin of a young Radio Live reporter and ends up digressing...
Fashionable regime: In North Korea, women are "encouraged" to choose from 18 officially sanctioned hairstyles. (North Korean blokes only have 10 options).
Real Estate Bouquet: An Australian man says his neighbors have been complaining about his family's "excessive noise" for a while now. First it was their pool filter and their dryer that were too loud then it was their talking and the air conditioner running. Finally the neighbours in their mid-40s began coming over complaining that the kids were being too loud while playing outside directly to the real estate company in charge of his rented property. They responded with this letter...
Video: Goats Yelling like Humans Part 2.
* Got a Sideswipe? Send your pictures, links and anecdotes to Ana at here