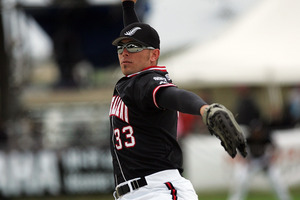 Softball is a DIY sport right to the top level. The world champion Australian players are among those to pay their own way to Rosedale Park for this week's world championships.
The team doing it the toughest, though, are probably Mexico, not that they will tell you that.
"They never complain about anything," says their liaison officer, Rebecca Nolan.
The Mexicans arrived with just five helmets, and one of them was cracked. They have four bats between them.
To save about $10,000, they checked into a city hotel instead of following tournament protocol of staying at North Harbour. They pack four to a room and have quickly learned how to shop wisely for their self-cooked meals.
"It's been a little bit hard because here is more expensive than our place," says second base Alan Martinez.
"We had to pay to get to Los Angeles and had a price for the plane tickets and they changed it two weeks later which made things a bit expensive.
"But we have had so much help from the people here."
The locals have certainly helped out. There was a whip-round for extra helmets, and a bat boy even chipped in on that score. Someone brought in a stash of apples, nibbles and sports drinks.
Mind you, softball throughout the world is hurting, having been dropped as an active Olympic sport. Government money is in shorter supply, and the loss of Olympic status makes sponsorship tougher to get. Even American softball has suffered, although the deep wounds to the once-powerful men's team may be more self-inflicted.
Smaller sports in New Zealand, where softball did once get strong coverage, are largely ignored by the ratings-driven mainstream media. A couple of Black Sox players told the Herald "don't talk to us about cricket" in frustration and fondly recalled when beer and cigarette sponsorship bolstered their game.
Apart from the money situation, other world championship teams have faced different challenges - for instance the Venezuelan players had a nightmare getting visas in time.
But softball is nothing if not resilient - because it has to be. It is also a worldwide family that tends to do everything with a generous spirit and smile.
Nolan reports the Mexicans sing on their way to games.
"Our kids' teams have more equipment than they do," she says.
"You want to do anything for them and help them out - I even thought about hiring a vehicle myself when they were having transport problems."