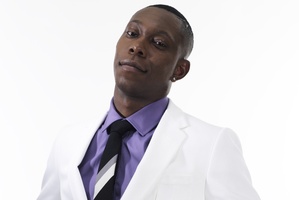 He's cheeky, that Dizzee Rascal, and not afraid to indulge in a bit of harmless self-promotion.
The East London motormouth bounded onto the stage at Vector Arena's Back to the Future show on Friday with his DJ and two henchmen clad in a "Bassline Junkie" T-shirt, the name of his latest catchy single currently bombarding the airwaves.
And Rascal's highly entertaining set featured plenty of that "big, dirty, stinking bass", as he roared through his biggest hits and tried out some new material on the up-for-it crowd, at the superclub-styled show featuring acts en route to the Future Music Festivals across the Ditch.
Oozing with energy, Rascal and co cavorted around every inch of the stage making you wonder how he had enough breath to spit out his rhymes, which ran the gamut from Fix Up, Look Sharp and Jus' a Rascal off 2003 debut Boy in Da Corner, to Flex from Maths + English and crowd pleaser Dance Wiv Me from his last album Tongue n' Cheek.
He saved big club banger Bonkers, made with electro house producer Armand van Helden, for the encore.
Great fun, even if you're not entirely convinced about the more commercial direction his music seems to be heading in.
Hopefully co-headliner, up-and-coming New York rapper Azealia Banks, was watching Rascal and his cronies carefully and taking a few notes on their awesome stage presence.
Not that Banks is a terrible performer - far from it - it's just that she's got a way to go before she'll command the same attention on stage as someone as seasoned as Rascal.
Of course, the gorgeous young star, who has had a rapid rise to fame over the past year and is being touted as "the next big thing" in hip-hop, is still developing as an artist and is yet to even release an album. But there's no denying her raw talent.
Wearing sunglasses and a bizarre outfit of silver bustier crop top and harem pants, Banks rattled through a short set of her fresh, energetic and often x-rated throaty rap from last year's mixtape and EP Fantasea and 1991.
There was no sign of new material from her forthcoming album, Broke With Expensive Tastes, but she did perform her remix of Baauer's chart-topping Harlem Shake which got her into trouble with the US producer when she released it online without his permission.
We had to wait till the end for Banks' best-known, and best, track: sassy, explicit dance hit 212, which nearly took the roof off, with the crowd screaming along to those filthy lyrics at the top of their lungs.
Rascal and Banks were supported by Canadian world champion turntablist turned remixer-to-the stars A-Trak, Dutch house music star Hardwell, rising French DJ Madeon and Belgian DJ duo and brothers Dimitri Vegas and Like Mike.
What: Back to the Future
Where and when: Vector Arena, Friday