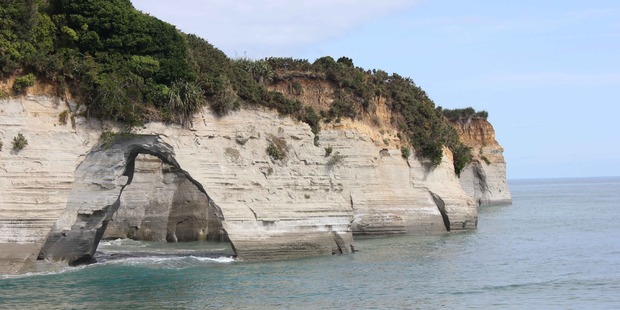 It's been a week of filling in gaps - exploring a few highways around the North Island that, as a South Islander, I'd never driven before. There were a couple of other new experiences too: first swim in Lake Taupo, first walk on the slopes of Mt Taranaki - probably all commonplace occurrences for readers from northern regions, but much more of a novelty for we Mainlanders.
The waters of Lake Taupo were a bit choppy but surprisingly warm compared to even a midsummer dip in one of our alpine lakes. If it had been Lake Tekapo for example I'd probably still be standing there up to my knees trying to will myself to take the plunge into a full immersion. The novelty never wore off of walking along the Taupo township waterfront past signs warning of hot water from the streams emptying into the lake.
The mountains of the volcanic plateau stood etched perfectly against a cloudless sky. I could have been picky and wished for a little obvious volcanic activity but at least the cliffs at Hipaua at the southern end of Lake Taupo were steaming mysteriously.
Although Mt Taranaki is officially rated as dormant rather than active in geological terms it is still an arresting thought for those of us who don't have volcanoes looming on the horizon every day, or the prospect of an eruption decimating our backyard (down where I come from we leave that to earthquakes.)
A summit climb was not on my itinerary but the loop track through the so-called Goblin Forest that grows on the slopes around the North Egmont visitors centre. Wonderfully gnarled kamahi trees were festooned with whiskery lichens and cushions of moss. Contrasting dramatically with their twisted trunks were the exclamation-mark straight mountain cedar. The canopy is dense so sunlight filtered down greenly creating a decidedly eerie atmosphere.
I saw, or even heard, few birds, until I got back to the visitors' centre where a persistent and quite piercing shriek was echoing around the carpark. It was a sound I'd never heard in the South Island bush before (and before the birders rush to tell me - I know it's supposed to be in our forests too, must be a case of wrong place at the wrong time.) A helpful Department of Conservation staff member came outside to quickly identify it as the long-tailed cuckoo - a summer migrant to NZ from warmer regions of the South Pacific.
"It's noisy but shy," she told me, "but if you head up the path towards it and keep quiet you might be lucky."
I had almost located it when a party of visitors talking loudly came thumping down the boardwalk, but ironically their appearance scared the cuckoo that then flew away right in front of me. "What was that?" they inquired, startled as much as the bird had been.
A long tailed cuckoo, I told them, trying to look knowledgeable and not betray I'd only been told its identify a few minutes earlier.
The nearby city of New Plymouth, or more particularly its parks and gardens were something of a revelation. I can't imagine there are too many provincial regional or district councils that have taken on the running of a garden rated as of being of national significance, but Taranaki's council is responsible for three of these.
Gardens such as Pukeiti are renowned for their rhododendrons so I opted to save that one up for a spring visit. Instead I opted for Tupare, on the city's outskirts. Tupare was originally created by Sir Russell Matthews who began the enormous task of turning a gorse-covered hillside into a garden back in 1932.
Its magnificent collection of trees were at their very best as was a profusion of hydrangeas. I craved a version of Sir Russell's cascade but even more so would have loved to have lived in his James Chapman-Taylor designed house. With its characteristic rough cast exterior and small paned windows it looked the perfect setting for a country house party (and possibly a Christiesque murder to boot).
That evening I walked a section of New Plymouth's 11km Coastal Walkway that runs from the Port of Taranaki in the west to Bell Block in the east, passing right alongside the city centre. It has won a multitude of awards but the proof of the pudding is whether any recreational facility is actually embraced by the public. And this one certainly is ... I was passed by rollerbladers, cyclists, joggers, and when I stopped to admire the seascape, even people on mobility scooters.
The most serendipitous find of this trip north however, was along State Highway 3 about 30km north-east of New Plymouth. We only stopped at Urenui because of the need for caffeine (me) and a large breakfast (the other half). We found both at the Mud Bay café and then decided that it would be criminal not to follow the road to the beach on the other side of the Urenui River bridge.
After crunching over a prodigious judder bar beside the seaside golf course (if anywhere could tempt me to learn golf it would be here) we discovered an extraordinarily eclectic collection of baches before finding the beach itself. I've never quite understood why one would want to come on holiday and live even closer and more exposed to one's neighbours than at home in suburbia. Maybe the location inside the Urenui's grand finale loop into the ocean makes it worthwhile.
Sea-worn and bleached driftwood lay scattered along the black-sand beach (a novelty for we South Islanders) beside the mouth of the river. On the far bank an archway in the cliff framed the waves. Cicadas sang in the trees dotted along the foreshore. If we hadn't been expected in the Waikato later that day I would have set up camp then and there.
- nzherald.co.nz