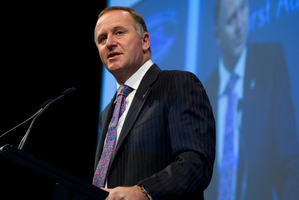 John Key admitted yesterday that he won an office sweepstake on the Supreme Court decision.
He bet that all five judges would find unanimously for the Crown and he was right.
In making the admission at the end of a press conference at Parliament, he was exercising bragger's rights, and will no doubt attract some criticism for treating a matter of such importance as though it were the Melbourne Cup.
But no one has has treated the case lightly, least of all the Prime Minister.
With its flagship asset-sales policy on the line, the credibility of the Government was at stake. A five-nil decision against it, and with no Plan B, would have plunged the Government into crisis.
The credibility of the Supreme Court was also at stake and it would not be stretching it to say the decision could impact on the appetite for constitutional reform, which is the subject of a current review.
It is easy for John Key to sound confident in hindsight. In reality it was hope.
The decision was not certain from the outset. You needed to see the seriousness with which the court treated both of the country's top QCs, Colin Carruthers doing battle for the Maori Council and David Goddard for the Crown, to see that.
The Dame Sian Elias factor also made for greater uncertainty about the outcome. There were some misguided calls for her to step aside from the case because she had been counsel on the famous Lands case in 1987 which established in law that the Treaty of Waitangi was a partnership.
It was always expected she would lean towards the applicants' case - which at its extreme wanted the principles of the Treaty applied to all law, whether the Treaty was mentioned in it or not.
The question was whether two of the other four could be persuaded.
In the end the five-nil decision sounds a more comprehensive victory than it probably was. It would not have been a good look for the Chief Justice to have delivered a minority decision.
The fact that the Maori Council won't be liable for any costs is probably her way of saying "this was not a waste of time and don't be discouraged from coming back".
The court decision said the Government was within the law but reminded it about its commitments to recognising Maori interests.
It is a judgment that effectively says to the Crown, "You've won this time but we're watching."