In a country where the road rules, a set of wheels is a must.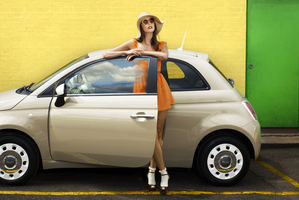 The freeways of America are like giant veins twisting and turning, rushing life from one zone to the next. The landscape is a giant body just lying there feeling the rumble. Everyone drives here in LA. If you're an adult without a car you're probably homeless. Footpaths are scarce. They call them sidewalks because they're on the side of the roads. The roads are what count around here.
I wanted to fit in with the driving culture so I asked my management for the loan of an Italian sports car. They smiled and gave me the keys to a Fiat 500. Well, I'd heard the rumours that there was a car smaller than a Mini but now I had the proof.
Don't get me wrong, it was a nice-looking car, but as I stepped into it I couldn't help feeling like I was putting on a roller skate.
Off I zoomed like a tiny dancer darting about the lanes. They say life's a party. Well, I'm the kid in the new PJs who's sneaked back downstairs to show off to the adults.
Quite a bit of travel time on the freeway is spent in stand-still traffic. You'd be surprised what some people do in cars over here. I've seen people reading the paper at the wheel, reading scripts, eating meals and even playing cards. But the most common phenomenon is "car dancing". The other day I pulled up next to two very happy ladies who were boogying on down to some dance track on the radio. Their heads were flinging about in delight. I wound down my window to listen to the song. They saw me and yelled out the frequency of the station. "Right on sisters!" I replied in my hip Kiwi tones.Then I adjusted my radio to the same station and danced with them. It was a magical moment which lasted about 20 seconds before the traffic picked up and we drove off, never to see each other again.
While my days are usually spent in the car, my evenings are spent sitting by the laptop waiting to catch up with my kids. There's a 21-hour time difference between Los Angeles and Auckland and my boys want to speak to me at 5.30pm. That's 8.30pm LA time - right smack bang in the middle of my evening.
I hate not speaking to them so usually I just take my laptop with me to bars and parties. It's either that or stay in the hotel room on my own tinkering about, which can be a bit depressing when you miss your family. I tried doing that to save money. But I could hear the next-door neighbours fornicating rather loudly. I bashed on the wall.
"Hey can you make love more softly? I'm trying to paint the control panel on my P-47D Thunderbolt model. It's very intricate!"
They ignored my plea so I left my room and went for a dance in my car.