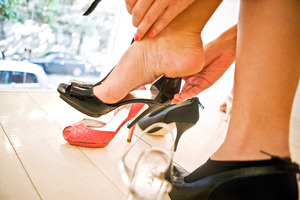 Q: I recently bought sandals at Eurobrands in High St and was delighted when I found they were reduced from $60 to $41.
After about five weeks I noticed a crack in the heel. A week later, I found the crack had turned into a split from the upper to lower sole. I found the receipt and returned to the shop, where I was told they only allow one week to return goods. How should I proceed? - Diana, Mt Eden
A: I had trouble getting an answer out of anyone, too, until I was given a number for the owner of Eurobrands. He was not available but the woman I spoke to said that if you take the shoes back to the shop, they will arrange a replacement or refund.
The Consumer Guarantees Act states that goods sold must be fit for purpose - shoes that last five weeks clearly are not.
If you had not got anywhere, you could have gone to the Disputes Tribunal, but that would cost $36 and take about half a day.
I spoke to a lawyer, Thomas Biss, of Henderson Reeves Connell Rishworth, who recommended people who felt retailers were not keeping to the Act wrote a polite, detailed letter in the first instance. He said you could also have contacted the manufacturer, who also has obligations under the Act.
But he said it was hard to justify legal action when amounts were small. "It is tempting to conclude that disreputable retailers rely on customers finding it too difficult and just stonewall."

Have you been ripped off? Got a gripe with customer service or a query?
Write to Consumer Watch, PO Box 32, Auckland or email Susan at susan.edmunds@heraldonsunday.co.nz.