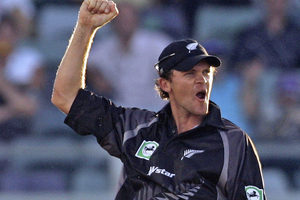 Looking back it is strange, and sad, to consider Lou Vincent was just 29 when he played his last match for New Zealand.
His retirement from the game at 34 ends the career of one of the country's most colourful players, and you're left wondering at a talent lost just when he should have been reaching his best years.
Remember Vincent is one of just eight New Zealanders to hit a century on test debut. But only Vincent did it against Australia, one of four centurymakers in Perth in 2001, and against a bowling attack of Glenn McGrath, Jason Gillespie, Brett Lee and Shane Warne. Some entry, that.
There were three hundreds in his 23 tests, including 224 against Sri Lanka in Wellington in 2005 - the eighth highest score by a New Zealander - but a test average of 34.15 is lower than it should be for a batsman of considerable talent.
In a sense, Vincent was never about numbers. He had a flamboyance about his batting.
When on song, he was a treat to watch.
He was a pioneer in the use of the Mongoose bat - possessing a longer handle and shorter blade with more meat at the bottom of the bat.
It looked odd, but in the right hands, such as Vincent's in the short forms, it worked. "The idea is to bat normally and just let the bat do the talking for you," he once said of the Mongoose, ironic given Vincent's love of talking for himself.
Vincent's career was blighted by battles with depression. He was certainly misunderstood by the powers within New Zealand Cricket, and the national team.
Blues coach and former All Black great Sir John Kirwan, another who has had a high profile battle with mental health issues, recalled a teammate who offered the seriously new age remedy of "just harden up". Vincent could probably relate to that.
He didn't feel the warm embrace and certain heads around the New Zealand team at the time should have heads hung in embarrassment at his treatment.
Add to that he has a distinctive, quirky personality, which didn't always sit comfortably in a clique-heavy dressing room.
Vincent's problems came to a head in 2007, his final year in the national team. Getting away from the game he loved at that time was "the best thing for me" he reflected recently.
"I was very passionate about playing for New Zealand. But how many times can you be let down by something that you love? How many times can you have your heart broken?" he said in an interview.
Lack of support left him desperate.
"I had my first child who I would look at and think, 'God what world have I brought you into? I am completely pathetic'."
Vincent became a cricketing wanderer. He did stints with four English counties and popped up in T20 leagues around the globe.
He was an entertainer and if consistency - he also had three hundreds and an average of 27.11 in 102 ODIs - was a problem, Vincent was always worth watching.
His run-a-ball 153 against Canterbury two summers ago carried Auckland to the national one-day title.
And as recently as last year, he had his backers calling for a return to the national T20 side.
It was never going to happen. But it could have been fun.