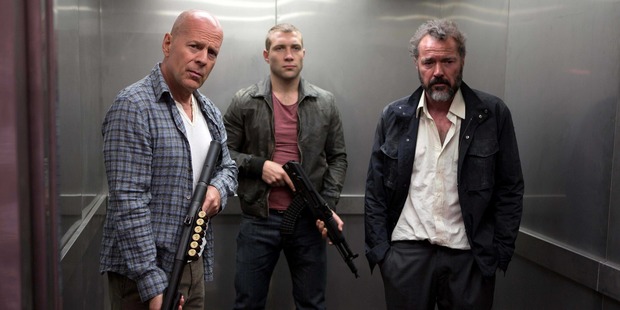 Despite a career spanning three decades, Bruce Willis has yet to be nominated for an Oscar. Not that the veteran action actor really has a problem with that.
The Die Hard star, 57, graces the cover of GQ magazine's March 2013 issue, and opens up about being (so far) overlooked for an Academy Award, his sobriety, stuttering, and the best piece of advice he could ever offer anyone.
"I don't think about it too much. It just always has seemed whimsical to me, to think about it," he tells the mag when asked whether he missed the recognition from the Academy.
"You don't get an Oscar for comedy, and you don't get it for shooting people. You get it for novelty, of being fascinating to watch in some character role. But the Die Hard stuff and Dirty Harry are all fraught with the same thing that every story is fraught with."
Inside the issue, Willis, who is currently doing the promotional rounds for A Good Day to Die Hard, the latest installment in the action series, also dishes on his sobriety.
The actor is said to have ditched the booze in 1988, which coincided with him pulling the plug on a lucrative promotional deal fronting ads for an alcoholic beverages company.
"I had been sober [for a while]," he says. "But once I realised that I wasn't gonna run myself off the pier of life with alcohol, drinking vodka out of the bottle every day...I have wine now, mostly when I eat."
Willis, who was this week made a Commander in the Order of Arts and Letters by the French government for his contribution to cinema, also reveals that he struggled with a speech impediment during his early years.
"The Cub Scout years, I had a terrible stutter," Willis explains.
"But then I did some theater somewhere, probably in high school. And when I memorised words, I didn't stutter, which was just miraculous. That was the beginning of the gradual dispelling of my stutter. I thought I was handicapped. I couldn't talk at all. I still stutter around some people now."
'IT'S NO JOB FOR A GROWN MAN'
The actor, who is a father of four (daughter Mabel, 10 months, with wife Emma Heming, and daughters Rumer, 24, Scout, 21, Tallulah, 19, with ex-wife Demi Moore) also says he finds it difficult to explain what he does for a living to his kids.
"I can't even figure my job out," he says. "I can't figure out the proper metaphor to try to explain what it is I do, even to my kids. I can't get it into a nice, cozy box - 'This is what I do, and this is why.'
"I still like it - you can't beat the dough. But I'm sure there will be some kind of penance. The Catholic side of me - not that I am Catholic, but - just assumes that there's going to be a bill to pay. I don't know, maybe I should be doing something else, but I don't know what it would be."
He adds during the interview, "The work that I do. If you know you only have a certain amount of time left, what would be the best thing you could possibly do with that time? That's a good question. I don't know.
"I do question the whimsicalness of this profession. It's a great job to have the task of trying to entertain people. But if you've read any of the Marlon Brando stuff, you know it's no job for a grown man."
Does that mean he'll retire?
"Well, I have to stop doing it at some point, and I would like to do it with the same grace that he [Cary Grant] did," he continues. "Who's another actor who continued to work? [Clint] Eastwood is still doing it. And he's still doing great, telling stories. Telling stories is a way to make money."
Willis reveals that he still has goals in sight.
"[My goal right now is] to keep it looking lifelike," he tells the mag.
"In the past few months, I've read a lot about Old Hollywood - Gary Cooper, Cary Grant, Spencer Tracy, Audrey Hepburn, William Holden. Every story is that everyone was struggling. Everyone was flailing wildly. And it's kind of reassuring, because if you only see the performance, it's easy to associate that person with their work. Cary Grant was referring to himself as 'Cary Grant the actor. That's not me.' He would make a big difference between those two things."
As for future projects, Willis knows one thing for sure - they won't involve politics.
"And nobody wants to hear this bad news, but we're all dying on some level. I'm going to try to keep the machine moving forward as much as possible and not have to think about the eventuality of becoming more frail and less able to do the work," he explains.
"I know that I'm not going into politics. That's not an option. I was asked, and I said, 'Did you hear any of the stuff about me when I was a kid?'"
He has some advice for young actors, too.
"I recently heard one of my fellow actors say it in three words: 'Just shut up.' Just go silent. Maybe it's being older; maybe that's just a tiny tag of wisdom, that you've got to think about something before you say something," he says.
"I once thought that somehow, with this job, also comes the inherent right to say whatever the f*** I want regardless of whether I'm right or wrong or think that anybody needs to hear it or should hear it."
He continues: "Another thing that I heard whispered by another actor is 'You've got to do the hard stuff first.' Do the big scene first, and then you can do the small scenes and have fun. It's great advice for life. I say it to my kids: Do the hard stuff first. Then you can go and do whatever you want to do."
Click on over to GQ.com for more from the interview.
And check out the A Good Day to Die Hard trailer below:
Yippee-ki-yayyyy, indeed!
Meanwhile, Willis has spoken out about his rather awkward interview on British TV last week.
Willis appeared on the BBC's The One Show to promote the new Die Hard flick, and gave an interview that was littered with awkward pauses, one-word answers, mumbling and shoulder-shrugging.
In one section of the interview, Willis interrupted presenters Matt Baker and Alex Jones, and mused over the film's title.
"Let me ask you guys, what about the title? Are you confused by it?" he asked.
"I don't understand it. 'It's a Good Day to Die Hard'? No, I'm still working on it."
Willis has since apologised for the interview, admitting that he was "boring".
"I have to apologise," he told UK music radio station Xfm.
"I didn't get very many compliments about it. They said he was a little stale. But I was so jet-lagged. I'm very sorry, you kids on The One Show.
"I'm sure it's not their problem. I was a little bit boring, I think. I had a little sinking spell, that's all."
FAST GOSSIP
And finally...
* Vivienne Jolie-Pitt reportedly earned $3,000-a-week for Maleficent role.
* Royal anger as magazine plans to publish bikini photos of pregnant Kate Middleton.
* Marlin will return! Albert Brooks swims back for Finding Nemo 2.
* Scarlett Johansson nearly dreamed Anne Hathaway's dream - she auditioned for Les Miserables.
* "I showed side boob. I don't need to show ass" - Mila Kunis talks onscreen nudity.
* "I'm devastated and sad" - Lady Gaga postpones four shows, citing chronic joint pain.
* Matt Damon goes on toilet strike to raise awareness for clean water.
* Adele's Grammy crasher reveals why he did it. Singer denies she gave Chris Brown a tongue-lashing.
* Justin Timberlake surrenders to Instagram.
* Helena Bonham Carter to play Elizabeth Taylor in a TV movie.
Follow Myrddin Gwynedd on Twitter.
- Rumour Has It