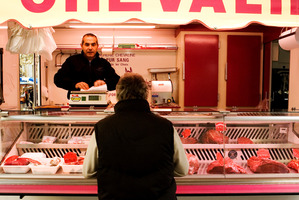 Who would want to eat horse?
Well, for one, this writer.
To be involved in thoroughbred racing you have to have a love affair with the horse.
However, every now and then one of the beautiful creatures that this industry is centred around can really prove irksome.
Really annoy you.
And we're not talking about the punt here. If you can't handle losing at that you shouldn't be betting.
We're talking horses that want to cheat.
Enjoy doing it. Cunning. Dirty.
I can think of half a dozen horses that at times you think: "Wouldn't you just like to take a bite out of that animal."
In November, I spent three weeks in the south of France visiting my youngest daughter, whose fiance, former junior Warrior Jordan Meads, was playing league for Avignon.
What an opportunity to, for the first time, try horsemeat.
Curiosity I suppose. I also wanted to write a column about it.
To hell with the snails, let's try the horse.
No chance.
Could not find one restaurant in the south of France - and there's millions of them - which would serve "cheval".
I got looked at strangely a few times for even suggesting it.
Didn't know at that time that all I had to do was take a 100-euro train trip across the channel to ole Blighty and front up to the local Burger King.
Or have just about my favourite dish, lasagne.
In 1983, the beautifully-bred yearling Northern Dancer colt that turned out to be Snaafi Dancer was sold for a record US$10.2 million ($12.2 million).
He couldn't gallop fast enough to run out of sight on a dark night and never raced.
Put to stud he again proved useless - he left just four foals in two years, none of which could run faster than their sire.
Now there's a horse you would have liked to eat.
The saving grace is that he was purchased as a yearling by Sheikh Mohammed.
To the sheikh, US$10.2 million is like you and me going to McDonald's.
Or Burger King.