NZ cannot be too careful over additives in products.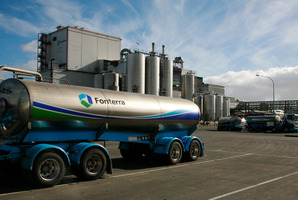 The words "New Zealand" have to be synonymous with food safety. The country cannot afford its reputation as a pure and wholesome food producer to be tarnished anywhere in the world, but especially in milk fed to babies and especially in the burgeoning market of China.
The fuss over traces of a farm chemical found in Fonterra's infant formula is a warning of how vigilant we have to be. The chemical, a nitrate inhibitor used to protect waterways from fertiliser run-off, appears to be harmless at the levels used by two fertiliser suppliers in New Zealand. It presented no problem until the United States Food and Drug Administration published new tests last year for a number of compounds. When Fonterra found the test detected minute quantities of the the nitrate inhibitor, DCD, the company decided to play it safe.
Chief executive Theo Spierings explained on our pages yesterday that the detected level was 100 times lower than acceptable daily intake levels under European food safety limits.
"At the same time we were conscious that there was no global standard for DCD in any food," he said. "Without a common standard we felt there was potential for confusion among food regulators around the world."
In November it took its concerns to the Ministry of Primary Industries, which set up a working group with the fertiliser suppliers. Last Thursday, the fertiliser firms announced the withdrawal of their product. The announcement received the sort of headlines it was designed to avoid.
"New Zealand milk is poisonous," said one, according to an exporter of infant formula, Auckland-based Biopure Health, which owns a chain of New Zealand Milk Bar shops in Sichuan province. "Chinese-made milk free from DCD," read another.
Chinese readers need no reminding of the melamine scandal in 2008 involving an additive to milk used by a Chinese company, San Lu, part-owned by Fonterra. The milk came from Chinese sources and Fonterra distanced itself successfully enough that Chinese in this country have been buying out stocks of infant formula in New Zealand supermarkets, reportedly for export to families with babies in their homeland.
The Auckland exporter believes, probably rightly, that it will take more than a Fonterra press statement to undo the damage that has been done. Simon Page, co-founder of Biopure Health, told our reporter the company's sales, which had been doubling by the week since it opened last year, went "to zero" after Thursday's announcement.
He suggests the Government should invite Chinese food safety officials to visit this country accompanied by a television news crew to explain what DCD is, how much was applied, where and why it was used, how little of it has made its way into our milk, and how little risk it really presents. If only the solution was that simple.
New Zealanders, or most of them, may trust Fonterra's word on these things. The same confidence cannot be expected of consumers overseas. There is not much the company can do to restore its reputation in markets such as China except ensure its product is truly safe, that no child will suffer, and in time the fear will be forgotten.
But it can probably do more to ensure that setbacks such as this do not happen. DCD may be a harmless and environmentally helpful additive to farm fertiliser. But if it can find its way into milk, and there is no agreed international safety level for its human consumption, it should not be used. Fonterra is no doubt careful in these things. It needs to be even more careful in future.