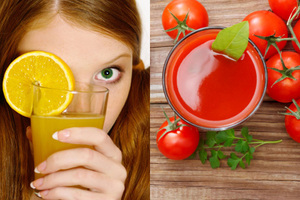 I've been on a juice detox for three days now and I'm feeling hangry (you know, angry because you're hungry).
I wrote that line, venting a couple of days ago, mid-way through a five-day juice cleanse. Today, it's all wrapped up and I'm feeling chipper, lighter and full of beans.
I've done the PHD Juice Cleanse once before and loved the outcome. It's a great way to reboot your insides, hone in on healthy habits and just feel a bit more sunny. That's why I decided to tackle it once more post silly season. I was enjoying a few too many summer vinos and grazing plates - plus my jeans were feeling a bit snug.
The day before detox five days worth of raw juice was delivered to my house - that's 30 bottles of the stuff. It was intimidating. But I managed to stash it all in the fridge and come to grips with what was going to be a tough (and anti-social) week ahead. The "basic cleanse" I signed up for meant replacing your three main meals with a "Pure Green" juice made up of cos lettuce, celery, cucumber, spinach, kale, parsley, lemon and green apple.
It's easy to drink and will keep you full. Mid-morning "Zesty Lemonade" is the hardest for me to swallow (lemon, cayenne pepper, spring water and agave). Mid-arvo is a tasty treat of the more familiar flavours of apple, pineapple and mint, and post dinner is a milky desert mix of cashew nut, spring water, vanilla, cinnamon and agave. On top of this I guzzled about 3L of water a day (a bit more than usual).
I'm not going to lie, day one was rough. I was sleepy, lethargic, headachey and grizzly (just ask my poor flatties). But enthusiasm kept me motivated. Day two I started to become obsessed with food - reading about it, looking at it, smelling it. And by lunch on day three I was bloody hangry. However, post lunch juice that day, something happened. I had a pep in my step. I was ready to get to the gym, walk home from work and be a kind person. On day four and I was up at sunrise for a spin class, stayed inspired through a full working day and didn't even feel grumpy once. I have to admit though, I steamed up some veggies for lunch (with the permission of the PHD Cleanse boss, Rich) - just to mix it up.
The joys of juicing are all the rage right now. Holistic nutritionist Libby Matthews, lays off the solids for one day a month - blitzing up all her fruit and veg in a bid to reset the system.
She reckons everyone should undertake a three-day juice detox once a year to get rid of all the nasties that our liver has to process - built up from food, pollution, alcohol, cigarettes and even make-up.
"After an amount of time you get a build-up in your liver, so when you do a detox you're trying to get all the toxins out so everything in your body can work better, work faster," says Libby, one half of a favourite of my blogs Julia&Libby.
"When you're eating food it takes a lot more time and effort for your body to process all of that. So when you do a vegetable juice cleanse it gives your body a rest. It can get rid of all the toxins because it's got more time to do that.

Libby says detoxers will also tend to shed a few kgs around their belly because that tummy tyre has built up there to protect unhealthy organs. So when you've got your insides in good working order the fat will fade.
By day three, as I experienced, the toxins have exited your body and you should be reaping the rewards. Libby says a solid detox not only gives your liver a new lease on life, but also rebuilds red blood cells, removes parasites and can help prevent and remove cancer cells.
So why is vegetable juice so darn good?
"It's the best way for your body to get vitamins and minerals," Libby says. You're able to jam heaps of good greens into 500mL of juice and it takes a load off your digestive system.
"Try to have as much organic fruits and vegetables as you can so your body doesn't have to get rid of those toxins as well."
However, Libby warns a detox like this isn't for everyone. If you're leading an "extremely toxic" lifestyle packed with unhealthy food, excessive booze and smoking then it's best to take baby steps. She suggests subbing in a green juice for your lunch. Going too hard, too fast puts you at risk of a toxic-expulsion overload - rashes, depression, nausea - not fun.
Libby's favourite veggie juice combo:
1x beetroot
4x bunches spinach
3x celery stalks
1x lemon
4x cos lettuce leaves
2x carrots
It's a hard (and hungry) week, but a spruce with juice is a sure fire way to get your body in to gear for a nourishing year ahead.
Follow Nicky Park on Twitter and Instagram.
Have you done a detox? Would you try one? What are your favourite veggie juice recipes?