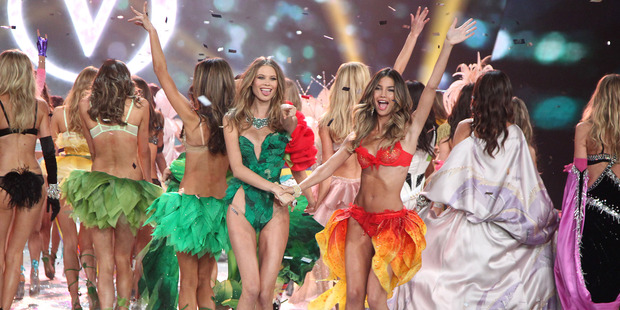 Most of us already know what we see in a Victoria's Secret catalogue or runway show is, largely, smoke and mirrors.
We know human skin isn't naturally quite that uniform or gleaming; thighs not naturally that robotically smooth; bosoms generally not quite so ample on such very thin frames. Not without some serious digital manipulation/lighting effects/body makeup, anyway.
After all, people like me in columns like this drone on about it all the time.
But, eventually, labouring all those points becomes a bit like earnest white noise. Even though on an intellectual level we understand the huge amount of work that goes into the creation of 'perfection' ('creation' being the operative word), sometimes it actually takes someone from the shop floor to really, properly hammer it home.
Because the most effective myth busting dialogues - the sort that really open and change minds - come from the inside. When someone who's setting the standards admits the standards they're setting are a sham.
Which is probably why a Ted Talk given by Victoria's Secret model Cameron Russell is currently doing the internet rounds so swiftly.
A fashion success story, Russell not only totes the fluffy angel wings but also walks for high-end designers such as Chanel, Marc Jacobs and Prada, and has featured on the cover of Vogue.
And though the 25-year-old doesn't deny her success has brought her huge pleasure and privilege ("It's awesome"), it is, she says, merely due to having won "the genetic lottery".
She's on the stage because "I'm a pretty, white woman .... I've received all these benefits from a deck stacked in my favour."
During her ten minutes of laudable honesty, Russell also provides side-by-side comparisons of pictures from her fashion shoots, and candid snapshots taken around the same time. The images are a construct, she says, to the point that the pictures of Russell are - in a sense - not even of Russell:
"In December I was shooting in the Bahamas, and on the way back I was in a boat with other people staying on the same island. One woman was going on and on about the model she'd seen on the beach who was 'so gorgeous.' Of course, that model had been me in hair, makeup and a neon bikini.
"The whole 30-minute boat ride she didn't recognise me. I was sitting directly across from her wearing sweatpants, a windbreaker, no makeup and hair up in a bun."
My favourite part is when Russell talks about young girls who want to be models: "What I really want to say to these little girls, is: why? You know, you can be anything .... Be my boss. Because I'm not in charge of anything. And you could be the editor-in-chief of American Vogue or the CEO of H&M or the next [legendary fashion photographer] Steven Meisel."
Anyway, take a look for yourself. Then pass it on to your daughter/young niece/little sister/cousin/anyone who maybe hasn't quite got it yet that what they're looking at, and aspiring to, is a mirage.
Follow Rebecca Kamm on Twitter.