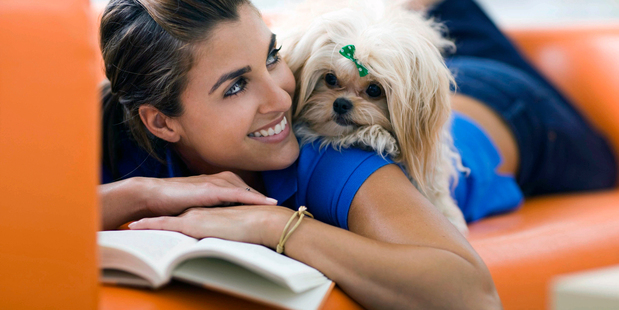 We love our pets, here in New Zealand, but not half as much as they love them in other countries.
In Paris, little handbag dogs are taken by their elegant mistresses into high-fashion designer stores, and the staff in those stores are as obsequious and considerate of the mutt as they are of its mistress.
In Ireland, once you get out to the country pubs you'll see ruddy-cheeked farmers sipping pints and swapping yarns while their smelly old lurchers lie snoring at their feet, and in England it's more acceptable to bring your dog into a bar than it is to bring your child.
Yep, when you travel through Europe you see every man and his dog in cafes, bistros and pubs. The animals are well behaved - as are the patrons. The dogs stay under the table or on their owners' laps. In European establishments you don't see oversized dogs or dogs that were bred to fight, and I've never heard a dog bark nor yet witnessed a dog fight. That's not to say it doesn't happen - it's just that when I've been in the cafes you would never have known the dogs were there.
The Food Bill is before Parliament and one of its proposals is that bar and restaurant owners have the option of letting animals on to their premises.
Dog lovers are enthusiastic about the proposal but I wonder if, as a society, we are responsible enough to have the privilege of taking our much-loved pets with us everywhere we go.
People who live in the major cities of the world are forced to live, work and socialise in very close proximity to one another.
You have to learn to give and take in cities with such densities of population. People have to work for the good of the community rather than expect their own needs and desires to take precedence.
In major European cities, people tend to stick to their own neighbourhoods. That means if anyone behaves badly, the whole community knows about it and judges accordingly.
So if you had a bad-tempered dog that couldn't be trusted to behave nicely in public, I'm pretty sure you would find yourself unwelcome at your local eating establishments.
In New Zealand, I'm not sure we've grasped the concept of responsibilities being the yang to the yin of rights.
We've taken to demanding our rights pretty well - it's just the understanding of corresponding responsibilities that's taking some time to inculcate in the general population.
So if you love your little dog beyond reason - he is your fur baby and he sleeps on your bed every night - you're going to have a blind spot about his behaviour. If he yaps continuously, he's just talking. If he jumps up on other people, he's just being friendly. If he nips, he was just frightened.
I'm sure you've seen those sorts of dog lovers before. I wouldn't want to share a cafe with a dog like that.
On the other hand, I know plenty of brilliant dogs who are well trained, intelligent and absolutely bomb-proof. These dogs - and their owners - would be welcome anywhere.
Perhaps it's best to leave it to the discretion of the bar owners. Let them decide who is welcome and who is not. If they are well-mannered, even tempered, clean and sweet smelling, let them in.
Because their dogs will undoubtedly be the same.