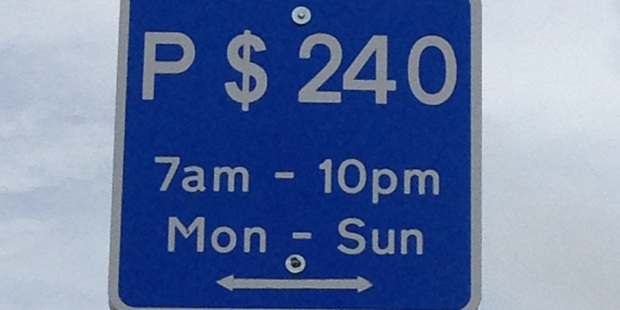 Rather expensive parking spotted near Jellicoe Park, Ohehunga...
True Blood name sticks
Parenting.com analysed the most searched-for baby names of 2012 to predict which ones will be the go in 2013. The results: Jacob, Max and Liam joined Isabelle, Millie and Sookie (yes, Anna Paquin's character in True Blood) as the six most common name searches by expectant parents last year. The overall trend of this year's baby names is retro, with Ann, Betty and Ellie making a comeback for girls, while Ted, Bertie and Gus are newly hot names for boys. (Source: Time)
Read the fine print
Jan has a warning for 85-year-olds, and anyone flying with someone 85 or over domestically. "The insurance you pay extra for will not pay out for any reason related to death or hospitalisation - 'We refer you to all exclusions appearing on pages 57 to 59 of the policy wording'. So next time you tick the box for insurance when making a flight booking give yourself a good half day to read this document. Better still, don't bother, the exclusions are so numerous I'm not sure it's worth it."
Direct debit good
A reader writes in support of direct debit: "You are essentially giving a person or company permission to debit funds from your account. [Direct debits] would be rather pointless if you were just able to cancel [them]. They provide comfort to a company and reduce time and money spent on collections and chasing up late payments. The arrangement arguably favours the payee rather than the payer, but that's just how it is."
Direct debit bad
And another writes against it: "By agreeing to direct debit, you're giving a company permission to take money from your bank account according to their schedule. And that is control I'm not willing to part with. It opens up too many opportunities for error, or worse - especially when you want to end the agreement, and find the company isn't quite so willing to stop taking money from you. The only way out at that point is to terminate your bank account. They can't take money from you when the account doesn't exist. If you want to pay bills automatically, set up an automatic payment with your bank. That way, you retain control, and can terminate it at any time. Otherwise, pay your bills manually."
Good read: How this guy outsourced his own job...
Incredible GIF: A little tornado went by...
Bookish: If Dr Seuss books were titled more like academic journal articles...
Video: A very handsome young man becomes a very beautiful young woman over three years...
Got a Sideswipe? Send your pictures, links and anecdotes to Ana at ana.samways@nzherald.co.nz