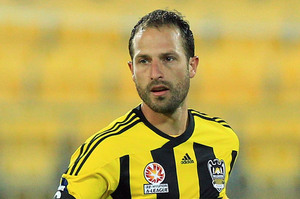 Put me in the front of the queue when it comes to praising Ryan Nelsen, but I'm not going to join the clamour for Andrew Durante as his automatic replacement in the All Whites.
The body lets players know when time is up and this appears to be the case with Nelsen. New Zealand must face up to the fact that if we get to the World Cup finals in Brazil, it will be without our superb captain.
Nelsen has been an outstanding, hard-nosed professional with a great attitude and work ethic. He wasn't blessed with silky skills and pace, but has a brilliant soccer brain. Two of the finest footballers - Bobby Moore and Franz Beckenbauer - also made up for a lack of exceptional natural gifts through their ability to read the game.
Nelsen has no peer in that regard within New Zealand soccer. He is also an unusual sports star in being loved by kids and parents, who see him as a terrific Kiwi. He has worked his socks off, put his body on the line for his country, and captained two English premier league teams.
He has enormous respect from fellow players and leads from the front. He has been inspiring for many of our kids.
I know one thing. Without his influence, the All Whites would not have beaten Bahrain in Wellington, so would not have gone to the 2010 World Cup finals in South Africa.
But those messages from the knees don't lie. When you can't turn as you once did, when players suddenly go past you in a way they never did before, the writing is on the wall. And so Nelsen is heading to Toronto as their coach, although he still has obligations to Queens Park Rangers.
I've got no problem with the Australian Durante, the Phoenix captain, becoming a naturalised New Zealand player, but I disagree strongly with sentiments in the media this week that he is an almost automatic replacement for Nelsen, and is the best defender at the Wellington club.
Ben Sigmund is the best defender at the Phoenix, has a great attitude, and has been giving his all to crack the All Whites' starting line-up for some time. Sigmund's problem is a lack of pace, which means he can't be played on the flanks or as a sweeper but as first man in, he's the best we've got.
Sigmund could be paired with Durante in the centre of the All Whites' defence, but there are other options, depending on Ricki Herbert's formations, including Tommy Smith sweeping behind Sigmund.
I'm also concerned at a vibe that Durante might even be the All Whites captain. What on earth would the New Zealand players think about that? Durante has been a terrific professional for the Phoenix, no doubt about it, but he is not in Nelsen's class and is a squad option, not a certainty.
In my dream scenario, Nelsen would play in the home qualifying game against New Caledonia in March, giving us a chance to thank him for all he has done and celebrate his wonderful playing career.
And who knows - while I don't think he could be part of the All Whites set-up next year, he might be the coach in time for the 2018 or 2022 World Cup campaign.