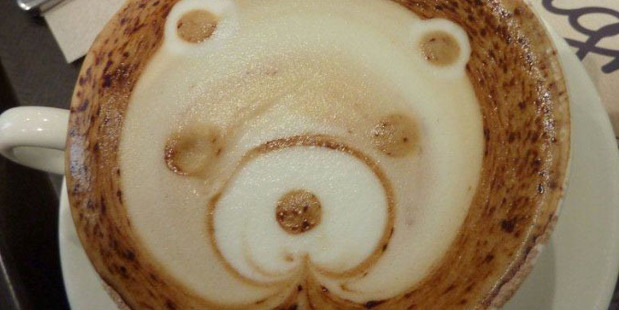 Howard Williams of Albany says the best coffee art he's seen is by Vishal Dhiman at Muffin Break in the Albany Westfield Mall. "He does other animals too, like an elephant, but I think this bear portrait is his best," he says.
Voucher nonsense doesn't add up
A reader writes: "It's my birthday this month, and to my surprise I received a $10 gift voucher from Spotlight, as a member and regular customer. Very nice, I thought. So off I went shopping, my purchase came to $9.99. Ah, I thought, I have got that voucher. 'Oh no you can't use that, the purchase is not $10.' I asked: 'If I give you a $10 note, will I get some change then?' 'No', was the reply. 'But you cannot use the voucher - the purchase is under $10. You can purchase something else.' I could not understand the logic, then I was told I was the second customer that day it had happened to. Sort of takes the shine out of the gift voucher."
Deflated by Trade Me fee
"I listed a small inflatable boat on Trade Me at $250 just before Christmas," explains Will.
"Trade Me's fee: $39 plus any extra promotional costs, making it 16 per cent of the asking price! I contacted them to query it and was told, 'If you feel our fee is too high, then I would advise you to pass on listing it'. Yeah right, where else am I supposed to sell it?"
Lack of preparation costs hiker
A man, who went on a three-day trek in the Blue Mountains in Australia with only potatoes and naan bread in his pack has been fined for his alleged lack of preparation. On Wednesday afternoon a 29-year-old Victorian man was dropped off by friends at Newnes near Lithgow. He had told them he planned to walk from there to Colo Heights. When he did not reach the intended rendezvous point by Saturday, his friends contacted police and a search began. The man was found to have a minor ankle injury. After declining treatment, the man was was issued at $500 infringement notice for "engaging in activity that risks the safety of self/others".
Christmas reveller's watch found in clean-up
Ross writes: "In the clean-up of our Franklin Rd lights I found a very nice lady's watch in the long grass of my berm. Not sure how long it had been there but it could have been dropped by one of the tens of thousands of visitors we had over December. Anyway ... because the council doesn't mow our berms anymore, it at least survived till I found it."
Email Sideswipe with a description if you think it's yours. Road sign in Queensland states the bleeding obvious, says Howard.