Improving the environment in the Hauraki Gulf will translate into major, long-term economic spin-offs.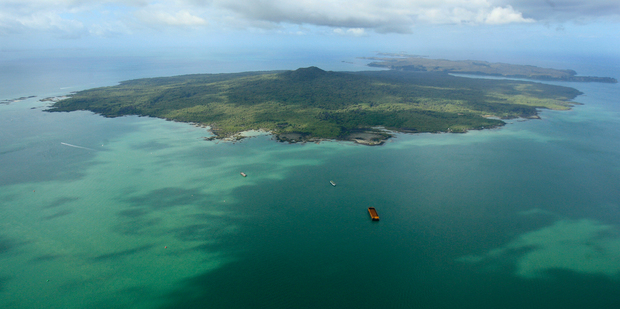 It is good to see some perspective being brought to the discussions about the footprint of Auckland's port.
Similar scrutiny is needed about how we consider the value and future opportunities of the broader marine area, the Hauraki Gulf Marine Park.
A couple of months ago Lonely Planet rated Auckland's harbours and the Hauraki Gulf as the number one attraction in the country. For those of us who get out and about on the water it came as no surprise.
But also consider this from the State of Auckland website: "Auckland Council monitors the health of our marine environment ... currently the most degraded areas are close to the centre of Auckland, reflecting current and historic land use impacts. This footprint of impact will continue to expand as urban Auckland expands."
There is a dangerous fatalism in the statement; one we need to challenge in both the unitary plan for Auckland, which is being fast tracked by a desperate council without sufficient care being given to critical and complex issues and also in the Hauraki Gulf marine spatial planning process due to start next year.
The link between humans and nature is always one of simple math. The number of people, the amount of stuff we use and the technologies used in producing and disposing of that stuff determines the quality of our environment.
If we continue growing, consuming and polluting as we have been doing, the environment will worsen and we'll miss out on quality of life and opportunities for future growth.
Fortunately there is a better way, and it is being brought into focus by excellent work from a number of players.
The business leader-led Pure Advantage group recently released a report titled Green Growth: Opportunities for New Zealand. The macroeconomic review demonstrates that not only can New Zealand rescue itself from environmental decline, but there is also significant economic benefit in doing so.
It suggests investing in smart infrastructure development - in power, transport, building and agriculture sectors - will position us to supply expanding international markets.
It also identifies biodiversity as one of our competitive advantages. Biodiversity "not only underpins our clean green credentials but also supports our $20 billion tourism industry".
A clever national biodiversity strategy could see us become a hub for international conservation education, pharmaceutical research and development and eco-tourism, ploughing revenue and resources back into terrestrial and marine conservation.
A Hauraki Gulf Forum-commissioned stocktake of jobs and earnings within the Gulf found around three quarters of economic activity derived from people enjoying themselves: tourism and recreational pursuits such as boating and fishing.
The report identified "a cluster of economic activities that have the environment at the very core of their business proposition. These share a common interest in protecting the environment as they have a critical dependence [on] the flow of ecological goods and services provided by the Gulf."
It suggests we need a clever local strategy, too. By that I'm not suggesting we run down our fishing and farming industries or Auckland's port. Rather we need to locate them within a broader frame; the new economy signalled by Lonely Planet and Pure Advantage.
There is headroom to grow jobs and earnings in low environmental impact and beneficial areas: like a marine reserve network, prime sports fishing waters, yacht cruising and kayaking/waka routes, education, events, volunteerism, great walks, nature watching.
Anyone who has visited the Auckland Fish Market will see the spin-off activity from premium locally caught and grown seafood: a cooking school, auction room tasting experience, jazz venue, fine dining, food emporium ...
Anyone who witnessed the release of the first kiwi on to Motutapu recently or has snorkelled at Leigh marine reserve on a summer weekend will know what success looks like.
Extrapolate through replication - add ferry routes, complementary wines, lodges, cultural, historic and nature diversions - and we have the making of a virtuous economic cycle which funds investment in protection and enhancement.
We have grown used to a Hauraki Gulf that in quality terms is vastly diminished from its original state. Turning that tide is needed now and lightening our footprint the method.
The Hauraki Gulf Forum's reports and advocacy has created momentum for a marine spatial plan for the Gulf.
It's important we get that right. The overarching goal must be to sustain the life-supporting capacity of the Gulf - the long overdue requirement of the Hauraki Gulf Marine Park Act 2000.
International experience shows marine spatial planning can deliver good environmental outcomes, when activities are located and scaled appropriately alongside protected and regenerating areas. Collaborative engagement means critical sectors can identify how they can best contribute to improved environmental health and share in the broad, long-term benefits it brings.
The leadership role of the Hauraki Gulf Forum - "a place for big strategic debates and long-term inter-generational thinking about the future of the Gulf," according to architect of the Hauraki Gulf Marine Park Act Dr Graeme Campbell - is critical.
Infrastructure and resource use decisions need to be held up against the mirror of clear, diverse and abundant waters in the Hauraki Gulf Marine Park. They need to be backed up by a properly considered and constructed unitary plan.
We have an historic opportunity to ask what it is that makes Auckland Auckland and need to draw the right lines in the sand with ambition.

Auckland Councillor Christine Fletcher is the leader of Communities and Ratepayers, a member of the Hauraki Gulf Marine Park Forum and chair of Motutapu Restoration Trust.