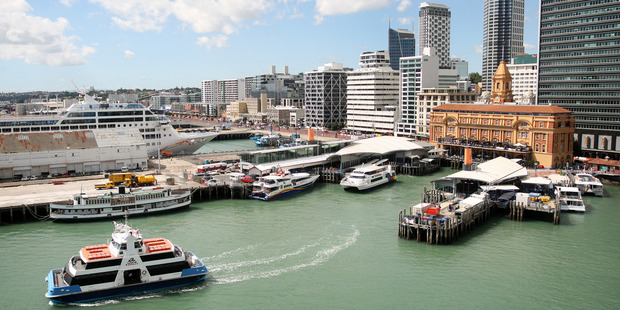 HOP OFF
Auckland Transport representatives have been out in force this week at the city's Ferry Building, handing out leaflets touting the long-awaited AT HOP swipe card, which ferry travellers will be able to use from the end of this month. The leaflets promise discounts of at least 10 per cent on single-trip cash fares, which sounds appealing. But further reading takes the gloss off the high-tech payment system - the card doesn't yet work with other tickets, such as the discount monthly passes used by many commuters. Regular travellers, says the leaflet in slightly crestfallen tones, "may find it better value right now to continue using these products". It's a hard road finding the perfect transport system.
$14 MILLION QUESTION
Scary spectator sport: watching shareholders quiz Fletcher Building chairman Ralph Waters during this week's annual meeting at Eden Park. Only a few brave souls stepped forward to grasp the microphone and incur the master's wrath at their apparent inability to grasp the facts. But one shareholder battled on when Waters told him the pay for the company's eight divisional bosses was in the annual report, and it wouldn't be too hard to work out who got what.
Persevering, he asked a supplementary question: could Waters take a rough stab at how much they collectively received? Eventually he got the answer - about $14 million.
OPENING THE BOOKS
Kiwi retailers, fighting for market share against their online rivals, could borrow a tactic from Britain's bookshops. Members of the Booksellers Association have taken to displaying posters declaring "We pay our taxes" - a reference to claims that Amazon, and other multinationals, use various cunning schemes to avoid paying tax on their sales in Britain.
SUCCESS STORY
Former Rotorua boy Mark Wilson has been named chief executive of British insurance giant Aviva. In a 2009 interview with The Business, Wilson enthused about the education he received at Waikato University and the early support he received from another Sulphur City native, Theresa Gattung. In his new job, the 46-year-old Wilson will get a base salary of £980,000 ($1.91 million) and an annual bonus of up to £1.5 million.
DO IT YOURSELF
Some ministers are muttering about last week's report on "green growth", and the bonanza awaiting New Zealand if we invest wisely. The report was prepared for Pure Advantage, a lobby group backed by top business leaders. It is not that the authors and their sponsors are not well intentioned, nor that their ideas are bad, it's just that the whole campaign raises a question, as summed up by one minister who moaned: "Some of these guys are so rich, if the ideas are so good and such certain winners, why don't they just invest in them?"
FAMILY FAVOURITES
The appointment of Sir Peter Gluckman and Belinda Milnes to the Families Commission comes as the commission undergoes restructuring to reflect its slimmed down budget. The commission will definitely become more focussed in its role - Gluckman does not suffer fools gladly, and Milnes is a savvy political operator to whom National ministers often turn when they are in trouble. Opponents, not surprisingly, say it is just more jobs for the boys and girls.
US AND OUR MATES
Anti-trade deal campaigners are getting their knickers in a twist at the prospect of New Zealand being part of two significant trading blocs. Academic and activist Jane Kelsey has lectured John Key, saying he needs a "reality check" if he really believes New Zealand can remain "best friends" with the United States and China as the two powers tout trade deals. Kelsey is referring to the Trans-Pacific Partnership, and New Zealand formally joining the Asia focused Regional Comprehensive Economic Partnership at the East Asia Summit. The contrary view is that New Zealand does not need to be "best friends" with anyone; it just needs the best possible trade deal, or deals. The fact that New Zealand is allowed to sit at either table when we have such a small market to offer, and pose threats to all countries' agricultural producers, speaks volumes about how trade talks have progressed. It also may be a sign that countries need cheap food.