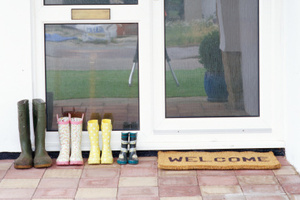 It can be a vexing dilemma: whether or not to remove your shoes when visiting someone at home.
There's a marked divide between the "shoes off" people and the "shoes on" folk. Some people believe shoes should always be removed indoors in order to save the carpet and avoid tracking in mud and dirt. Others think being required to take off their shoes while visiting someone's home is inhospitable and verging on OCD.
I don't subscribe to such a polarised view. For me it's much more nuanced than that and is all about context. Yet when you're visiting people for the first time, it's not always straightforward to ascertain whether or not to ditch the footwear prior to entering. Here are some points you may wish to consider.
Age of visitor: The rule of thumb at my house is that children remove their shoes while adults leave theirs on. Firstly, the children are unlikely to be aware if they've just stepped in chewing gum or a fresh pile of doggy-do on the pavement.
Secondly, the children are likely to roam aimlessly through all rooms of the house on multiple occasions. Thirdly, you can be certain that one of the children will accidentally kick another in the face; if they're barefoot then there will be a lot less blood. Adults, on the other hand, are usually much more civilised. They are mostly seated and only venture into a couple of rooms. By the time they're acting worse than the kids, quite frankly, shoes are the least of my worries.
Flooring: If a house is carpeted with wall-to-wall white shag-pile then I'd feel obliged to remove my shoes to ensure it remains pristine. On the other hand, if the flooring is of a robust material such as concrete or stone, I'd be inclined to keep my shoes on since there's little damage they could do to these surfaces.
Life-stage of occupants: The only time I got a bit finicky when people left their shoes on at my home was when I had an infant at the crawling stage. I couldn't help but think that my kid would soon be rolling in, playing on - or, even worse, chewing - whatever the soles of our visitors' shoes were tainted with. With this still vivid in my memory, I always remove my shoes when visiting households with babies or toddlers.
Owner's request: It goes without saying that if the host or homeowner asks you to remove your shoes it's polite to comply without a murmur. Only advanced age, holey socks, serious foot problems or other health issues can be used as a compelling reason for retaining the footwear.
Purpose of visit: If a guest arrives for a social visit then leaving their shoes on is fine at my place. On the other hand if someone is touring a house (as I have done on dozens of occasions in the course of my work as a writer for interiors and lifestyle magazines) then shoes should be off since they'll venturing into private areas of the home. Similarly if someone comes to your house in their capacity as housekeeper, cleaner or nanny then I'd expect that these people would remove their shoes. Again, they'll be constantly on the move and likely to be trekking into many zones of the house. Those who regularly work in domestic settings will often swap their street shoes for soft-soled slippers upon arrival at the residence.
Setting: At a farm house or other rural property it's second nature for everyone to ditch their outside shoes at the door probably because the chances of unmentionables being present on the soles are high. Similarly, in the mountains or other snowy places most of us are inclined to leave our heavy boots on the porch.
Type of footwear: Work boots, gumboots and riding boots must always be left outside the door. No one wants mud or horse manure tracked through their house. For similar reasons, footwear used for gardening and outdoor sports should always be removed, too. And unless the floor is already battered beyond belief, stilettos should never be worn on a wooden floor for fear of denting it.
What are your thoughts on shoe removal? Are you a "shoes off" or "shoes on" type of person? What do you expect from visitors to your home? And how do you behave when visiting other people's houses?