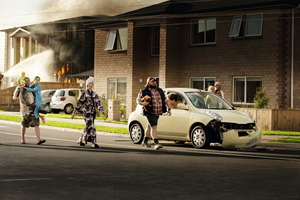 Good lord. Fair Go is an enduring creature.
I first worked on the show 26 years ago - a quarter of
a century - and although it has evolved over time, some things stay the same.
The Fair Go Ad Awards screened this week and included a couple of spoof ads performed by the team and
I thought, "Yep. They are just as cringe-making as they were when I was appearing in them."
I think the one that was most memorable for me was visiting Papakura Military Camp and walking past a line of soldiers. In the Cool Charm ad we were spoofing, the soldiers broke ranks and chased after the Cool Charm girl. In our ad, I had to go chasing after the soldiers as they scattered in all directions.
Was it a laugh? I thought my socks would never dry, as my favourite director was wont to say.
Another thing that hasn't changed is that ads will quite often pop up as a nominee in the Best Ad category and the Worst - proving that an ad that makes an impact will either be loved or loathed.
I remember one year an ad won the Best Award, without making an appearance in the Worst category, and people interviewed on the street, even those who had nominated it for the award, had no idea what it was selling. So best clearly doesn't mean most effective.
I love Fair Go and I'm glad in this slick technological age it's kept some of its cheesy homespun traditions -
I think that's why it's survived for so long.