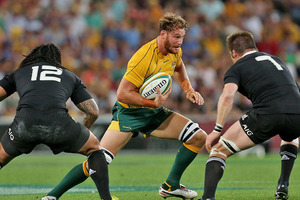 Australia's Scott Higginbotham joined a long list of rugby players who have lashed out at All Black skipper Richie McCaw.
Higginbotham was cited yesterday for 'punching or striking' McCaw with both incidents coming in the 26th minute of the 18-all draw in Brisbane on Saturday night.
McCaw's not new to being on the receiving end of illegal play having played 112 test matches at the highest level, but three incidents have come under the spotlight in the last 12 months following Dean Greyling's forearm strike during the Springboks' defeat in Dunedin and allegations of eye-gouging by Frenchman Aurelien Rougerie in the World Cup final.
Is the All Blacks' skipper fair game? Is it just a part of the rough nature of rugby or should players be hit with harsher penalties to clean up the game?
Have your say.