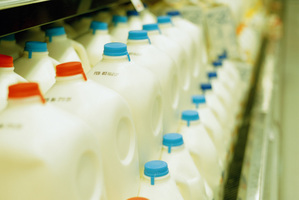 You have to feel sorry for our entrepreneur-minded migrants. We offer residency to moneyed migrants keen to set up businesses and contribute to New Zealand's economic development.
But when they do just that, we are prone to pull away the welcome mat and cry foul. Take the infant formula trade. Over a short period of time, canny new citizens from China have developed an "illegal" parallel export trade in infant formula. The Customs Service and Ministry for Primary Industries (MPI) estimate the business to be worth "in excess of $150 million and growing".
Given that official figures record the total trade at $753 million in 2009 - up from $63 million in 1999 - this is an extraordinary achievement for these car-boot traders, particularly when established exporters complain about how hard things are.
Yet do we praise these enterprising traders and present them with awards for services to export? No way; instead we get television programmes complaining about how they are stripping the supermarket shelves of product and making it hard for local mums to get baby formula.
Without entering the contentious battle of breast versus bottle, lack of product on the supermarket shelves is hardly the parallel exporters' fault.
Each time I see one of these agitated broadcasts, I want to yell at the screen: "Why don't you target Fonterra and the downstream manufacturers, and ask why, if overseas demand is so high, they don't give the economy a boost, and crank out more?". After all, it's not as though they're short of the basic raw material.
It seems incredible that small-scale exporters, filling at least part of their orders with the help of a network of local shoppers buying at retail prices, don't just compete with the manufacturers who are shipping direct, but build a $150-million export trade.
Not only does their success highlight the obvious demand in China for the product, it also suggests that instead of smooching up to Hollywood moguls, Prime Minister John Key might be better occupied putting a rocket under Fonterra and the downstream manufacturers.
Instead, all we get from the Government is an announcement from Customs and MPI last week that they had begun "action to stop unlawful exports of infant formula from New Zealand". The two departments announced their investigations "have revealed substantial growth in the amount of unlawfully exported infant formula in the past year, primarily to China". Given the size of the illicit trade, it seems amazing it took this long for them to react.
Katherine Rich, chief executive of the Food and Grocery Council lobby group, backed "the crackdown" expressing concern about any threat to New Zealand's international reputation "as a supplier of safe, reliable and quality food products".
Claiming "New Zealand's reputation in the world infant formula market is second to none, built in some cases over many decades by companies that have developed trust in their brands by delivering quality products", she avoided the obvious - that the problem is these companies aren't delivering. Not enough, anyway.
Of course preserving the reputation of New Zealand's product is vital, but Glen Neal, MPI food and beverage manager, told me there were "absolutely" no safety concerns about the parallel exported product. "That's the important message to get across." He says it's more a desire "to tidy things up" to avoid possible problems in the future.
He says the main problem is with a dozen or so exporters and the first step will be to "educate" them as to the requirements, which involve registering as an exporter under the Animal Products Act and then abiding by any specific export requirements for the destination country. Prosecution would be a last resort.
Mr Neal says with exports to China, the need for instructions on usage in Chinese was an obvious issue. He said China had not complained about the "illegal" trade.
Earlier this year, Christchurch-based Carrickmore Nutrition launched its infant formula on to the local and Chinese market, sourcing its milk product from Fonterra. It's the added-value type of export that experts say New Zealand requires to survive.
Our new entrepreneurial migrants demonstrate how hungry China is for this product. They've also proved to be much more nimble at getting it to market than existing players. I say, well done.