NZ well placed to represent interests of small nations.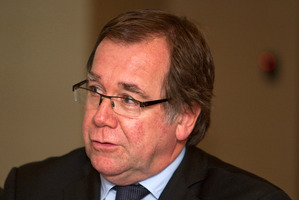 Foreign Minister Murray McCully. Photo / NZPA
Our diplomats at the United Nations and elsewhere make an astonishing effort to win an occasional temporary seat on the Security Council. Foreign Minister Murray McCully is reported to have held almost 30 meetings with other national delegations in New York at the weekend to push New Zealand's bid.
Much as he might enjoy an election campaign and find canvassing for votes a familiar exercise, it was probably not his idea. He would be acting on advice that a seat on the Security Council for two years really counts. We can only wonder why.
The Security Council is potentially powerful but to take any action it needs the consent of all five permanent members: Britain, China, France, Russia and the United States. The veto was used most recently by China and Russia to prevent the council imposing sanctions against the Syrian regime. The 10 temporary members are bystanders unless the big five can agree.
Since those 10 seats have only a two-year term and incumbents are not eligible for immediate re-election, every country would seem likely to get a turn. The current 10 include Azerbaijan, Guatemala, Morocco, Pakistan and Togo. New Zealand wants one of their seats in 2014.
Though five seats are up for election every year we are said to be vying with Spain and Turkey for one seat. Both of them, especially Turkey, seem to have formidable claims considering the state of the world at present. The Turkish Republic is offering a model of moderate Muslim democracy to Arab countries that have recently overthrown secular dictatorships and may need help to develop democratic institutions. Spain is enduring the euro debt crisis and facing renewed calls for secession in Catalonia.
New Zealand by comparison is small and trouble-free. The Ministry of Foreign Affairs and Trade's campaign material offers "a fresh, independent perspective" and promises this country would represent the interests of the UN's small states. Mr McCully stressed the concerns of small Pacific states in his General Assembly speech, mentioning climate change and threats to fish stocks.
It is not quite 20 years since New Zealand last won a seat on the body with a brief that includes investigating disputes and tensions, identifying aggression and responding to it with economic sanctions and military action if necessary. In New Zealand's previous term, according to the ministry, this country helped "push" the council to respond to genocide in Rwanda.
This time it is promising also to support reform of the Security Council, which could mean the addition of more permanent members - Japan, Germany, Brazil, India have claims - or regional representation, or more temporary members. Regional representation would seem preferable if the council is not to resemble a G9 or the G20 meeting.
New Zealand's diplomatic establishment remains proud of its presence at the birth of the United Nations and never wavers in its commitment to the UN ideal. It worked hard to put former Prime Minister Helen Clark into the chair of the UN Development Programme and it is working hard now. The benefits might not be apparent to taxpayers but much that happens in diplomacy is never apparent.
The UN can give small countries a voice in the world but their voice is probably best heard in the chamber where binding resolutions can be made and big powers sometimes agree, as they did on Libya, to act for the greater good. Others may have a greater call on the Security Council seat this time, but win or lose New Zealand has put its hand up, shown the part it wants to play in the world and made its presence felt.